Computex 2008: Hitachi going into "next IT life"
Press release, June 12; Eric Mah, DIGITIMES
Thursday 12 June 2008
Hitachi will integrate its seven group companies to participate in Computex Taipei 2008. This year, Hitachi will exhibit with the theme, "Into the Next IT Life," with exhibits spanning a wide range of areas including, communications, storage, security solution, automotive electronics, and high-functional components and materials.
Exhibits include the latest Blu-ray Disc recorders, huge-capacity storage devices, high-definition (HD) camera modules, car audio systems, novel portable Internet communication products, high-tech communication components and materials. Visitors can also experience the company's finger vein authentication technology on-site.
The Hitachi Group offers system solutions, products and services in various market sectors, including information/communication systems, electronic devices, power and industrial systems, digital media/consumer products, high-functional materials, logistics and financial services.
In the future, based on the foundation of group management, Hitachi aims to fulfill the different needs of clients in creating the best product value and growth by integrating the Hitachi Group's broad range of businesses, technologies and expertise.
Hitachi can be found in the TWTC Nangang Exhibition Hall at the Overseas Exhibitors section at booth N606.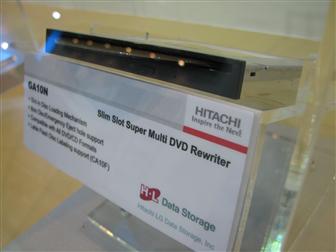 Hitachi GA10N slim slot Super Multi DVD rewriter
Photo: Eric Mah, Digitimes, June 2008