Marvell announces tiny wall plug computer
Press release, February 25; Ricky Morris, DIGITIMES
Wednesday 25 February 2009
Marvell has announced its Plug Computing initiative to make high-performance, always on, always connected, and environmentally friendly computing readily available for developers and end-users. A Plug Computer is small enough to plug directly into a wall socket and is designed to draw so little power that it can be left on all of the time, explained Marvell. Unlike other embedded devices in the home, it contains a gigahertz class processor to offer PC class performance which makes it a viable alternative to a PC for any software service, said the company.
"There is no doubt that home networks need to become more intelligent and easier to use by offering value added services for the consumer," said Simon Milner, VP and general manager of the Enterprise Business Unit, Consumer and Communications Business Group at Marvell Semiconductor. "We have created an open computing platform for developers in a consumer and eco-friendly form factor. Marvell's goal is to accelerate the development and availability of innovative software and services in the home."
The SheevaPlug development platform uses a Marvell Kirkwood processor based on an embedded 1.2GHz Sheeva CPU equipped with 512MB of flash and 512MB of DRAM. Connection to the home network is via Gigabit Ethernet. Peripherals such as direct attached storage can be connected using a USB 2.0 port. Multiple standard Linux 2.6 kernel distributions are supported on the SheevaPlug development platform. The enclosure is designed to plug directly into a standard wall socket and is designed to draw less than one tenth of the power of a typical PC being used as a home server, highlighted Marvell.
Several companies launched Marvell based products at CES 2009. These include:
Axentra whose HipServ software running on a SheevaPlug offers a complete home server platform and applications suite that allows OEMs and service providers to quickly go to market with branded home server solutions. The secure and stable software platform allows users to store, manage, share, view, or listen to digital media content in the home or remotely, said Axentra.
Cloud Engines launched the Pogoplug, a new device which connects an external hard drive to the Internet enabling users to share and access files from anywhere. The US$99 device is currently available for pre-order.
Ctera Networks introduced the Ctera CloudPlug appliance which converts a USB drive into a NAS device with integrated secure offsite backup. Ctera aims the device at service providers seeking to provide online backup services to consumers and small businesses.
Eyecon Technologies' media companion allows consumers to use a mobile Internet device (MID), such as iPhone, to manage content from any source including the Internet, DVRs, PCs and NAS devices and direct it to connected media devices in the home.
Marvell's SheevaPlug development kit is available now for US$99 through the company's website.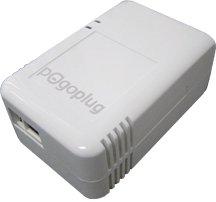 Cloud Engines Pogoplug based on Marvell's SheevaPlug development platform
Photo: Company