Vivitek debuts its line of home theater projectors
Press release, staff reporter, DIGITIMES, Taipei
Tuesday 28 September 2010
Atlanta - (Business Wire) - CEDIA 2010 Booth #4156 - Vivitek Corporation, a leading manufacturer of environmentally innovative visual presentation products, debuts its line of home theater projectors at CEDIA as a first time exhibitor. From its high-end LED-based H9080FD to the value-based H1080FD 1080p projectors, Vivitek has as complete family of projector models for home theater and large venue applications.
Vivitek will also introduce two new models including the H9030FD LED extreme short-throw and the D8300 large-venue crossover projectors. These will complement the current 1080p models consisting of the entry-level H1080FD, H1082, H1085; mid-level professional grade models, the H5080, H5082 and H5085; and high-end LED model H9080FD.
"Vivitek has a complete line of 1080p-based home theater and large venue models for the custom installation market," said Christopher Yang, senior product manager at Vivitek. "We know that picture quality, performance and even versatility are key factors for home theater enthusiasts. Our family of projectors incorporates the latest color and video processing technologies to ensure unsurpassed images on a big screen."
H9030FD key features and specifications:
Native 1080p (1920x1080) resolution
LED-lamp based projection with estimated 20,000 hours of lamp life
50,000:1 Contrast Ratio at 1000 ANSI Lumens
DLP and BrilliantColor technologies from Texas Instruments
Connectivity options include: HDMI v1.3 (3x), VGA-in, Composite video, S-video, Component video
3D-Ready
Available Summer 2011; Price TBD
D8300 key features and specifications:
Native 1080p (1920x1080) resolution
6500 Lumens and 2000:1 Contrast Ratio
DLP and BrilliantColor technologies from Texas Instruments
Advanced image processing from Gennum
Connectivity options include: HDMI v1.3 (2x), BNC, Component and Composite video, S-video and RS-232cBuilt-in 1.3x zoom with manual lens shift (+/-120% vertical and +/-30% horizontal)
Available Fall 2011; Price TBD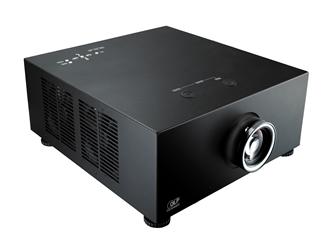 Vivitek full HD home theater projector, the D8300
Photo: Company