New Intel SSD delivers X25-class performance but in one-eighth the size
Press release; Jessie Shen, DIGITIMES
Intel has announced a new line of ultra-small solid-state drives (SSD), the SSD 310, which delivers the same performance as its regular X25 series-class SSD but in one-eighth the size.
Measuring 51mm by 30mm and 5mm thick, and weighing just 10 grams, the new compact SSD series enables accelerated performance in dual-drive systems when paired with larger-capacity hard drives.
The Intel SSD 310 also supports SATA signals over a PCI Express (PCIe) mini-connector for on-board, compact storage in single-drive netbooks, tablets or handheld devices.
"The Intel SSD 310 series will allow us to provide the advantages of a full-performance Intel SSD paired with the storage of a hard disk drive in a small, dual-drive system," said Tom Butler, director of ThinkPad product marketing, Lenovo. "We've offered Intel SSD solutions for our highly innovative Lenovo ThinkPad laptops for some time, and now we're looking forward to incorporating this new solution across our ThinkPad line."
"In order to meet the rigorous demands of our mobile users, we design for mission-critical tasks that require connectivity and handheld mobility in all-weather operations," said Mike Sarrica, vice president and general manager for DRS Tactical Systems. "The Intel SSD 310 series fits the bill by offering a reliable and high performing memory solution."
The Intel SSD 310 series is available in capacities of 40GB and 80GB, respectively, priced at US$99 and US$179 in 1,000-unit quantities. The new drives are currently shipping to customers.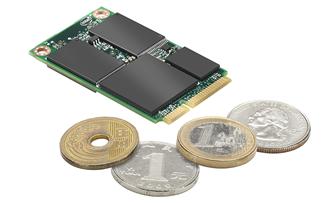 Intel SSD 310 measuring 51mm-by-30mm and only 5mm thick
Photo: Company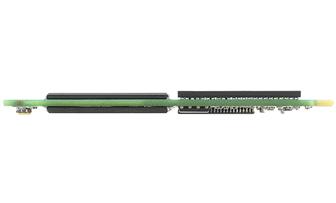 Side view of Intel SSD 310
Photo: Company