AMD releases 2 FirePro professional graphics cards
Press release, May 25; Joseph Tsai, DIGITIMES
Wednesday 25 May 2011
AMD has introduced the newest generation of professional graphics cards – AMD FirePro V5900 and AMD FirePro V7900 – which the company claim more than double performance of competitive offerings in key professional market applications. Created for the design, engineering, financial, and medical fields, the new graphics cards offer AMD PowerTune and GeometryBoost technologies in addition to AMD Eyefinity multi-display support to enhance workflow and application performance.
AMD Eyefinity multi-display technology makes it possible to support up to six displays in one large workspace, allowing faster access to applications and enhanced productivity. With the introduction of the AMD FirePro V7900, which supports up to four displays, and AMD FirePro V5900 which supports up to three displays, engineers and designers have an expansive desktop space from which to see more data, open more applications and view more information at the same time; improving workflow and enabling increased productivity. Also, AMD Eyefinity technology is easy to deploy and offers the lowest total solution cost, for example, in three-display configurations, AMD said.
New for this generation of AMD FirePro products is AMD PowerTune technology. This power management technology provides direct control over GPU power usage. Applications enjoy ultimate performance with dynamic clock optimization, while minimizing workstation energy usage. Also new for this generation is GeometryBoost technology – a unique hardware capability that processes two primitives per clock cycle, ensuring smooth handling of complex models for CAD and DCC users.
The AMD FirePro V5900 and AMD FirePro V7900 also feature DisplayPort 1.2 and HDMI 1.4 support as well as 2GB GDDR5 frame buffer.
AMD FirePro V7900 professional graphics cards feature four outputs from one card for a low total solution cost, enabling the ability to drive four independent displays from a single slot card. Additionally, this graphics card includes the ability to support framelock and genlock via the AMD FirePro S400 synchronization module as well as 3D stereo with the included expansion bracket.
AMD FirePro V5900 professional graphics cards deliver a mid-range high performance solution without exceeding 75W power draw with power saving techniques for reduced wattage. Coupled with AMD Eyefinity technology, the AMD FirePro V5900 supports three display outputs.
With the AMD FirePro V7900 starting at US$999 and AMD FirePro V5900 starting at US$599, both cards are available from professional graphics retailers worldwide.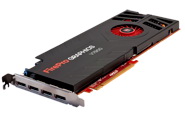 AMD FirePro V7900 graphics card
Photo: Company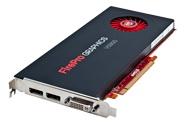 AMD FirePro V5900 graphics card
Photo: Company