MOEA presentation: Taiwan's ICT industry development and outlook
Press release
Monday 29 August 2011
A presentation prepared for Taiwan's Ministry of Economic Affairs (MOEA) had been made available for publication. The presentation provides an overview of Taiwan's key ICT industries and the dynamics influencing future development.
For readers interested in accessing the original presentation, a link is provided at the end of the article.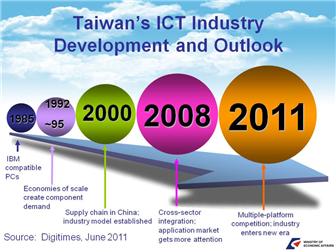 - In the mid-1980s, Taiwan started to manufacture IBM compatible PCs and gained economies of scale through volume production and stronger worldwide competitiveness in the mid-1990s.
- In 2000, leveraging the advantage of production scale, Taiwan integrated electronic components, foundry services to form a complete EMS supply chain and make the region the leading industry provider servicing the world.
- In 2008 during the economic crisis, Taiwan enhanced the capability of manufacturing and pushed the IT applications through the efforts of increasing foreign investments, technology and supply chain upgrade.
- With the strong success of the Apple and Google platform, Taiwan is facing the new era of multi-platform infrastructure. The new industrial shift is going to bring great changes in the Taiwan ICT industry.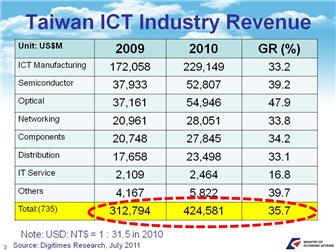 - According to Digitimes, there are 735 IT companies listed on the Taiwan Stock Exchange.
- These companies generated US$424.6 billion in revenue in 2010. This represented growth of 35.7%.
- The majority of ICT manufacturing sales was from PC and handset sectors. This sector generated US$229.1 billion in revenue in 2010.
- The display sector, including LCD panel, was the next biggest portion. It provided revenues of US$54.9 billion.
- The semiconductor sector covering foundry, packaging and testing and IC design contributed US$52.8 billion.
- Other contributors, including networking, components and distribution also played an important role to help Taiwan makers expand their markets worldwide.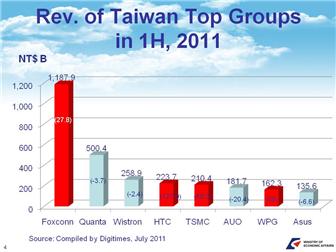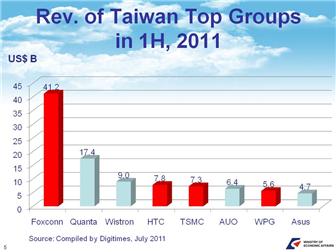 - The listed companies on the Taiwan Stock Exchange (TSE) need to disclose the operation and finance information to public to help investors to trace the performance of each companies.
- Analyzing the information from the TSE, there are at least 10 listed companies forecasted to more than US$5 billion in revenues in 2011.
- Foxconn Group is the biggest, with 2011 first half revenues were NT$1,187 billion (around US$41.2 billion), representing 27.8% on year growth.
- Companies such as Quanta computer, Wistron, HTC, TSMC, AUO, WPG, Asustek are all forecast to have US$5 billion in revenues.
- It is expected that 15 companies will have US$10 billion in revenues this year.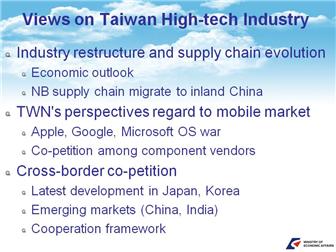 - Meanwhile, Taiwan will face industry re-structuring and supply chain evolution.
- From the current positive Taiwan economy situation, Taiwan yearly economy growth rate will be over 5% with US$400.3 billion in foreign exchange reserves.
- NB manufacturing is still the number one segment. The supply chain has recently migrated manufacturing to Chongqing, Sichuan Province recently.
- Taiwan makers control core value of capital, engineering research and global integration at their Taiwan headquarters.
- Facing the serious competition of Apple, Google and Microsoft platforms, Taiwan has already become involved in these markets.
- Co-petition among Taiwan component vendors is the norm.
- Cross-border co-petition, especially with developments in Japan, Korea vendors is getting more attractive for Taiwan makers.
- Emerging market development such as China, India, Russia and the Brazil markets are currently the major focus of Taiwan makers.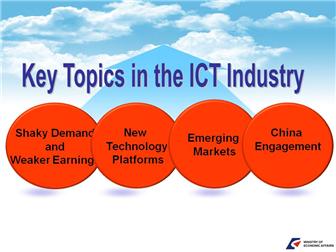 - These are the 4 major challenges of global ICT industry.
- The economic crisis in 2008 and Japan earthquake in 2011 all highlight the instability of market demands.
- The ICT industry faces oversupply and market concentration issues, while suffering from decreasing profits.
- The LCD panel industry is a good example, the market had consolidated greatly over the past 10 years and now Korea and Taiwan makers dominate the market, though they mostly suffer from negative profits.
- Emerging markets will gain more and more attraction, as opposed to the US, Europe and Japan markets. Current global growth is being driven by demand in emerging markets.
- The rise of China market is another key focus for Taiwan ICT industry.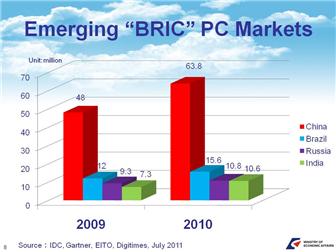 - Emerging "BRIC" PC markets, especially China, already occupy 40% of the global PC market.
- The China market still has issues of government interference.
- Taiwan has the best geographic, cultural and technology advantages to be the best partner for global enterprises entering China.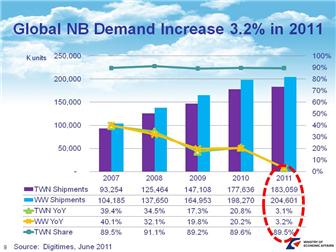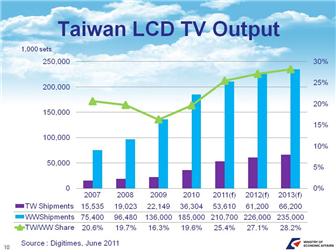 - The new opening of Foxconn's Brazil factory is a good example of establishing a good position for entering emerging markets.
- Brazil is one of the highest taxed countries in the world, double the rate of Mexico. Brazil tax income contributed 36.1% to the country's GDP in 2002. The Brazil government favored Foxconn with tax breaks.
- With the market continuing drifting and global LCD TV brands starting to reduce their shipment forecast in 2011, Taiwan LCD TV makers have reduced their global shipment forecast to 54.88 million sets and overall global shipments will shrink to 211 million sets.
- Europe and the US market will have zero growth starting from 2012. Japan will also have to worry about the negative growth after the earthquake. Global brands, seeing these previous negative impacts, started targeting emerging markets in 2010. Considering the price sensitiveness of emerging markets, Taiwan will benefit from more OEM/ODM orders from major brands.
- According to Digitimes, Taiwan's global market share will grow to 27.1% in 2012 and 28.2% in 2013, up from 26% in 2011.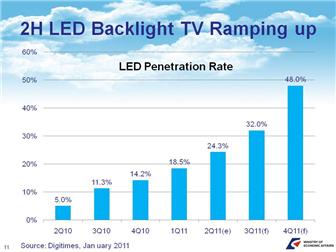 - LED backlight TVs hitting the mainstream is the major goal of all global TV brands.
- The LED TV penetration rate has been limited over the past few quarters.
- By the end of 2011, according to Digitimes, LED TVs will have a penetration rate surpassing 50%.
- Because Taiwan LED manufacturers will receive strong orders from Japanese brands, it is a great opportunity for Taiwan backlight module makers to have big growth.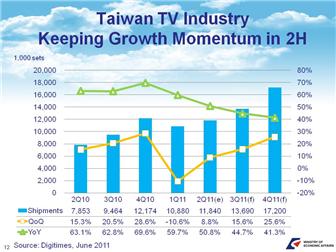 - Taiwan will have 17.2 million TV shipments in 4Q, 2011. The Y/Y growth will reach 41.3%.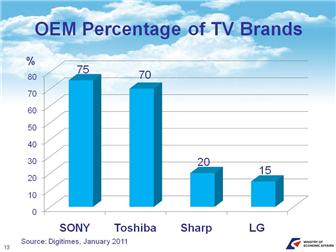 - Global TV brands are selecting OEM/ODM orders to Taiwan makers. Some of them even sold manufacturing facilities or factories to Taiwan makers.
- SONY and Toshiba have released 70% of their orders to Taiwan makers.
- Sony sold a factory to Foxconn. The current major manufacturing partner of Toshiba is Compal Electronics.
- Taiwan TV makers will be granted key components purchase rights, such as flat panel purchasing, in the near future.
- The entire Taiwan TV supply chain will take this opportunity to have tight integration and engage in close technology cooperation with international brands.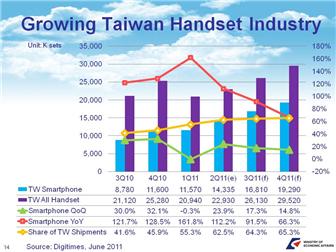 - In addition to NBs and flat panel TVs, handsets will gather more attention from the Taiwan ICT industry.
- In 2011, 100 million handsets will be shipped from Taiwan (excluding EMS handset makers).
- There will be 19 million smartphone shipment in 4Q, 2011. The Y/Y growth rate is 66%.
- The worldwide share of Taiwan handset shipments will be 65%.
- Local software developers, especially digital maps, on-line games, etc. will have a great chance to corporate with Taiwan smartphone makers.
- Besides Taiwan hardware developers, another potential winner to grasp this opportunity will be IC design vendors.
- Taiwan IC design houses will take advantage of technology investments and sales strategies to win business.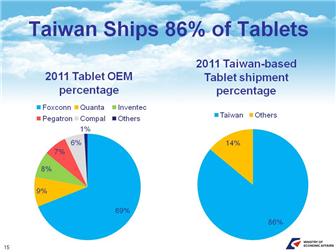 - The most attractive product in 2011 is the tablet PC.
- Apple and other international brands gave the most EMS orders to Taiwan makers.
- This year, 61.2 million tablets will be shipped. Taiwan makers will have an 86% share.
- The biggest EMS orders are coming from Foxconn for the iPad2. The major iPad2 manufacturing bases are in Shenzhen and Chengdu, China.
- Other major EMS vendors are Quanta, Inventec, Pegatron and Compal (in order of shipment volume).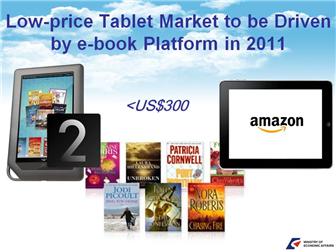 - New tablet players such as Amazon and Barnes & Noble will also release orders to Taiwan OEM/ODM makers in the 2nd half of 2011.
- Content-based tablet players will focus on low-priced product priced lower than US$300 to penetrate the market.
- Amazon and B&N will develop the Europe and US market as a first priority. For the China market, players will cooperate with Taiwan Channel vendors.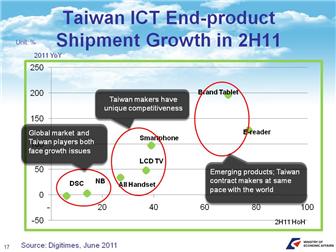 - Taiwan NB and DSC product lines are facing the problems of market saturation.
- Handset, flat panel TV and smartphones are currently Taiwan's top 3 competitive products.
- Taiwan tablet and e-reader product lines are keeping pace with world trends.
- Considering strong demand of baseband+Wi-Fi chipset used for smartphones and tablets, it shows why the merger between MediaTek and Ralink is so important. This also reflects the truth that companies that can only provide baseband or Wi-Fi chipsets are suffering to win new orders. So this kind of future merger deal will continue to grow.
- With Intel's acquisition of Infineon wireless solution business in the second half of 2010 and new LTE chipset solution demonstration at MWC 2011, it highlights the strong intention of Intel to focus on mobile communications chipset solutions, especially targeting tablet solutions. With strong CPU and Wi-Fi technology, plus Infineon's baseband, RF technology, Intel will start to release multi-chip solutions as its first step. Single chip solutions will be essential for entering the mobile market in the near future.
- In 2011, Broadcom merged with Percello, a Femtocell chip maker. Broadcom, with its strong Wi-Fi and baseband technology background has also shown its intention to compete in the mobile market and Femtocell will play an important role of the 4th generation mobile communication technology, allowing Broadcom to take a lead in this segment.
- Qualcomm dominates the 3G chipset market. Its merger of Atheros provides a dramatic improvement in its Wi-Fi technology, and Qualcomm boldly raised the stakes in challenging others to beat it out in the market.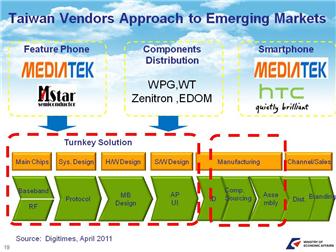 - Taiwan chipset vendors play an important role in the China white-box handset market.
- Over 80% of related baseband chips are from Taiwan. The component distribution and logistics are all well managed through Taiwan IC distributors.
- Besides handsets, Taiwan EMS and OEM/ODM makers are important for the local smartphone, tablet, and flat panel TV market.
- Taiwan makers have the strength of turn-key solutions to expand their business opportunities in different emerging markets.
- Taiwan makers represent the best partner for developing businesses for enterprises in emerging market through joint venture or other strategic cooperation.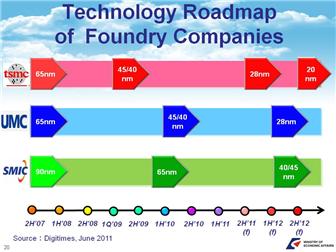 - The Taiwan electronics component industry has received a lot of attention worldwide.
- Taiwan's foundry service is the leader in this industry worldwide. TSMC is already offering a global-leading 28nm semiconductor process node technology.
- UMC has the same service quality to compete with other world class competitors.
- Through 2011, Taiwan foundry companies account for a 30% market share for semiconductor materials and equipment.
- More and more upstream vendors understand the value of Taiwan's semiconductor industry and are pushing more investments in Taiwan.
- Related vendors include Cabot, ASML, Avantor, DuPont and ATMI. They have already setup either R&D centers or operation centers in Taiwan.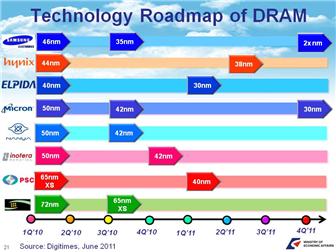 - Taiwan DRAM makers face immense downsizing in the industry. Although they are encountering a tough market, Taiwan DRAM makers maintain an important role in the global market.
- Korean maker Samsung currently accounts for 40% of the DRAM market. Hynix has a 25% share.
- These Korean makers controlled 2/3 of the market, pushing Taiwan DRAM makers to better organize and make use of their combined manufacturing capacity.
- PSC, Nanya, Inotera and Promos continue to discuss possible ways of cooperating with international DRAM makers.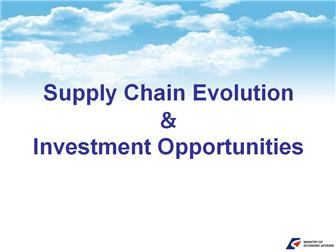 - Although facing severe competition in the mobile device market, Taiwan makers do not need to remove their past business models entirely. But they need to increase their mobile technology investments in order to improve their strength and win in the next step of competition.
- With the continued improvement in sales, distribution channel and manufacturing scope, Asian markets will be the new business horizon for Taiwan vendors.
- A big change in the supply chain is undergoing in Asia. New investment opportunities are booming.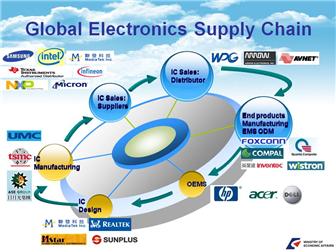 - International PC bands will continue using the Taiwan supply chain to find the best fit for components or technology for their core product concepts.
- Major chipset suppliers such as Intel, Qualcomm, Broadcom, Marvell, MTK will continue to release orders to Taiwan foundry and packaging testing service companies.
- Chipsets manufactured by Taiwan semiconductor service providers by IC design companies are sold through IC distributors WPG, Avnet, Arrow, etc. to major EMS companies to form the complete supply chain.
- This global electronics supply chain can easily discover Taiwan vendors' roles and strength. Avnet, one of the largest global IC distributors, recently acquired two Taiwan distributors to reinforce its competitiveness in Asia.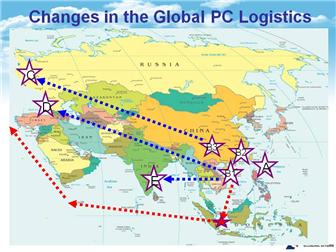 - Before 2000, all NB manufacturing and logistics were completed in operation sites located in Taiwan.
- With this labor intensive industry continuing to grow, the supply chain shifted to south and east China locations after 2000. In recent years, production facilities have even been moved to west or central China locations, such as Chengdu and Chongqing.
- Some Taiwan EMS service providers established well managed assembly lines in Russia, Turkey, India and other emerging markets.
- Thus, UPS and Fedex have become important logistics partners for Taiwan EMS service providers.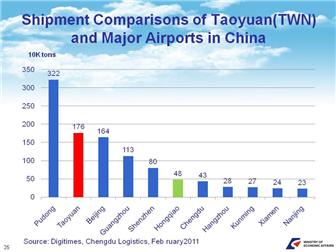 - With the unique geographic position of Taiwan and the strength of EMS and semiconductor manufacturing services in Taiwan, the Taiwan Taoyuan airport is one of the busiest airports in Asia.
- Shanghai Pudong Airport, with the intensive buildup of manufacturing facilities in the region in recent years, has become the biggest air cargo shipment airport in China.
- It is surprising to see that the Taiwan Taoyuan airport has even higher air cargo shipment volumes than Beijing, Guangzhou and Shenzhen.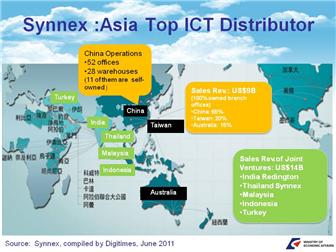 - The strength of Taiwan's logistic power is mainly seen in upstream industries such as foundry, packing and testing, case and chassis, connector, PCB and other key component suppliers.
- In downstream industries, Synnex and World Peace Group are the top 2 players.
- Synnex covers distribution channels in China, Taiwan, India, Turkey, Malaysia, Thailand, Australia and Indonesia.
- Synnex owns 100% of its China, Taiwan and Australia subsidiaries. The other countries feature joint venture agreements to have better efficiency for regional business development. Synnex is becoming one of the biggest Asia distributors of computers, consumer electronics and communications products.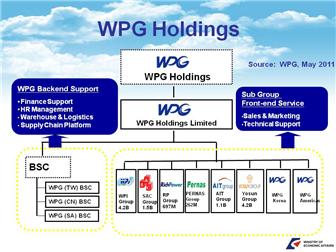 - WPG Holdings is a shared holding company that has merged leading Asia semiconductor distributors WPI, SAC, Rich Power, Pernas, AIT and YoSun.
- Each subsidiary has its own independent sales, warehousing and logistics operations. But finance control is mainly handled by WPG Holdings' headquarters.
- The company has 40 service centers in Asia and over 6000 employees including engineers and FAEs to support customers.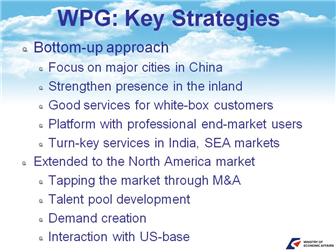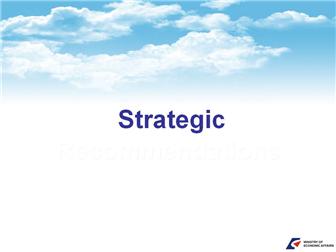 - Facing severe competition for mobile devices, Acer chairman J.T. Wang took charge when formal CEO Gianfranco Lanci resigned in March 2011. Although Acer doesn't need to remove the past success business model, which is focus on sales channel development and outsource product technology development, it is still important for Acer to increase the efforts to develop a new tier of mobile devices and grab an advantageous business model for competing in the market.
- Looking at major competitors, HP acquired Palm for quickly moving into the mobile device sector. Dell and Lenovo have increased their momentum to release mobile devices in the market. Acer is behind in this competition while its LCD TV and smartphone product lines also failed to gain market share. This is the major reason why the former CEO stepped down.
- Replacing the CEO is a critical action for Acer. The main concern is how to restructure the sales force and support the new managing team to smoothly transfer the new product strategy to boost performance.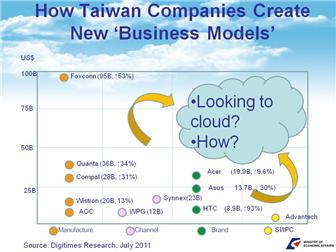 - Taiwan is looking for a new business model to upgrade its role in the industry.
- Cloud computing is one of the main focus
- There are 4 major system makers in Taiwan
- First, EMS services, including Foxconn, Quanta, Wistron and Compal, contributes 90% of worldwide NB shipments. They are looking at PC servers and storage system opportunities for engaging in the business of cloud computing.
- Second, IC distribution channels, like Synnex and WPG holdings, are becoming the best partners for international enterprises to penetrate and develop in Asia markets.
- Taiwan brands, like Acer, Asus and HTC, provide a strong product platform for international software developers to cooperate and build upon.
- Taiwan system integrators, including industrial PC makers like Advantech, and system software solution providers, are aiming at foreign investments or international corporative projects.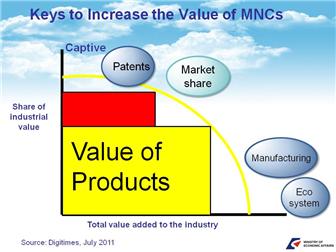 - Multinational companies (MNCs) used to have a business model to generate massive profit from patents and having a major portion of market share.
- When MNCs migrate to Asia, the profit engine needed to add a manufacturing supply chain to better develop a production Ecosystem.
- The value of products will be changed according to the value that manufacturing service providers can create, making the manufacturing supply chain a profit generator as well.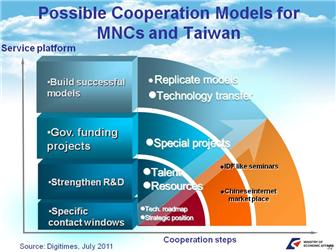 - For MNCs, we suggest that a direct contact window be established and dedicated. The technology roadmap needs to be provided in a timely fashion and the company needs to be dedicated with its vision to compete in the market in order to form a clear cooperation model with Asia system makers.
- To adopt special regional requirements, MNCs will need to co-develop technology with local system makers. The ability of localization and better usage of local engineering resource will be the keys to success.
- The Taiwan government has setup several win-win funding projects to better assist the industry by offering MNCs lower tax rates or special funds.
- The successful business model developed in Taiwan for MNCs can be duplicated in other Asia areas or countries.
To download the original powerpoint presentation, click here.