High Speed Solution for USB 3.0 & Thunderbolt at Computex
Press release
Tuesday 5 June 2012
ASMedia Technology, Inc. (5269.TWO), a Taiwan-based leading supplier of high-speed signal IC controllers and switches, will demonstrate its USB 3.0 Flash Controller (ASM1031) and USB 3.0 Hub Controller (ASM1074) at Computex 2012 from June 5 to June 8. With the upcoming volume production of Intel's Ivy Bridge platform and Microsoft Windows 8, the market demand for USB 3.0 is expected to surge.
Holding the most USB 3.0 product certifications and a large market share, the introduction of ASM1031 and ASM1074 will complete ASMedia's USB 3.0 total solution product portfolio, including USB 3.0 host, USB 3.0 SATA Series product, and USB 3.0 redriver.
The USB-IF certified ASM1031, USB 3.0 Flash Controller, has been tested with outstanding performance results with speeds reaching 300MB/sec. Consistent with ASMedia's successful design philosophy, ASM1031 also delivers high integration, low power consumption and BOM optimization for cost saving.
Unlike most hub controllers in the market that only provide a singular function of USB port expansion, the ASM1074 is a full feature product as the first to support both BC v1.2 and Apple device charging function. Also sharing ASMedia's design philosophy, ASM1074 further benefits the significant BOM saving with a 2 layer PCB with single-side SMT. Credited to the abundant experience from USB 3.0 Host and Device controllers, ASM1074 is unparalleled in compatibility testing.
In addition to USB 3.0 total solutions, ASMedia's high-speed signal expertise also illuminates the ASM1061, a low latency and high performance PCIe to SATA bridge controller, which has been used extensively in most of Thunderbolt designs. In satisfying the second interface carried by the Thunderbolt technology, ASMedia also offers a DisplayPort switch with ASM1447 to provide the lowest power consumption.
ASMedia was established in 2004 with focus on high-speed signal IC design. ASMedia's products have been recognized with lower power consumption, high compatibility and low BOM costs. As such, the ASMedia products are often adopted by PC branding and OEM customers with shipments in the tens of millions.
ASMedia will exhibit the latest high speed connectivity technology and application during Computex 2012 at Grand Hyatt Hotel 10F #1018 & 1019, and also demonstrate the USB 3.0 total solution at USB community of Nangang Exhibition Hall (booth no. N0707)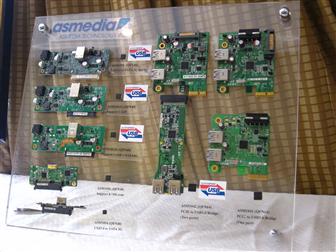 ASMedia USB 3.0 total solutions