JMicron's highlights USB 3.0 and SSD solutions
Press release
Wednesday 6 June 2012
JMicron Technology Corp., a global leading IC design company specializing in designing USB 3.0 to SATA Bridge and solid state storage device (SSD) controllers, will be exhibiting JMS569, its new USB 3.0 to SATA 6Gb/s Bridge controller, and JMF661, JMF662 and JMF667, JMicron's new ARM-based SSD controllers series at 2012 Computex Taipei (Nangang Exhibition Hall, Booth K1126).
JMS569 is a USB 3.0 to SATA 6.0Gb/s Bridge controller following JMS539, its predecessor supporting a USB 3.0 to SATA 3.0Gb/s. JMicron's engineering team has significantly improved the performance and lowered its power consumption for JMS569.
The results showed that JMS569 was able to reach a data transmission rate above 300M bytes per second, about ten times that for JMS539, with an SSD module using JMicron's JMF668 SSD controller. The readings were measured by IOMeter, a gauge for storage device performance, with a variety of queue depth and worker number settings on a platform having an xHCI host on an Intel's Panther Point of C1 stepping model and running on the Windows 8 Build 8315 Core 2. When USB Attached SCSI Protocol (UASP) for JMS569 is turned on at JMS569, the data transmission rate will boost to a level higher by as much as 30% at least.
Besides its data transmission performance, JMicron indicated JMS569's power consumption is significantly lower than that for JMS539 and its power consumption is compliant with those in USB 3.0 and USB 2.0 specifications respectively.
JMF662 and JMF661 are the leading mass-produced SATA 6Gb/s SSD controllers in Taiwan. Both of JMF662 and JMF661 support the majority of MLC and SLC NAND Flash produced by the global leading vendors. They also provide synchronous NAND interface, such as ONFI2.3 and Toggle DDR2.0, for the high-performance systems. The JMF662 and JMF661 performance of 4KB random write to the advanced NAND Flash reaches a level as much as 280MB/s by means of JMicron's proprietary Intelligent Algorithm. Even in the garbage collection stage, JMF662 and JMF661 can maintain its 4KB random write performance above a certain level for non-compression data. In addition to these features, JMF662 supports Windows Trim Command and NCQ (Native Command Queue) for improving access performance to SSD modules.
JMF667, JMicron's advanced SATA 6Gb/s SSD controller, supports next generation of mainstream NAND Flash and DEVSLP while the controller has an Intelligent ECC engine to extend SSD lifecycle. JMicron indicated that JMF667 offers a supreme solution to Ultrabook SSD modules. All of the JMF667 performance for sequential and 4KB random read/write as well as PCMark Vantage scores on the system with 24GB to 256GB memory capacity meet Intel's Ultrabook iSRT (Intel Smart Response Technology) and iFFS (Intel Fast Flash Standby) performance requirements. JMF667 also adapts low power design technology to fulfill Intel's SSD module power consumption requirement for Ultrabooks. For JMF667, JMicron offers the complete development package, including firmware and reference designs, to Ultrabook SSD module makers.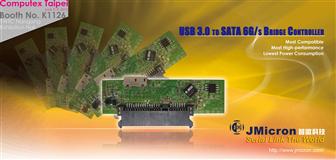 JMicron solutions