Carrying value: Q&A with Carry Technology president Taron Chang
Jessie Shen, DIGITIMES, Taipei
Thursday 7 June 2012
Carry Technology, which develops and manufactures card readers as well as other storage products, has launched its Apotop brand for storage solutions and peripherals. The new brand is to demonstrate Carry's aim of being a concept innovator, not a product inventor, according to company president Taron Chang.
Taking Apple's success as an example, Apple was not the first company to bring an MP3 player, smartphone or tablet PC to market. Rather than being an inventor, Apple has been working on brand new concepts, ideas to improve the existing products on the market, Chang said. The main purpose of Apple's devices is to provide a truly user-friendly experience to mobile electronics users - the direction Career wants its products to be developed towards.
Chang also talked about Carry's new business focus and efforts in diversifying product lines during a recent interview with Digitimes.
Q: In 2011 Carry launched the Apotop brand. What made you decide to launch the brand?
A: Carry is a 21-year old company listed on the Taiwan Stock Exchange. We used to focus on OEM business, specializing in card readers as well as other storage products with clients being mostly Japan- and US-based firms such as Buffalo and SanDisk. We also have built up a strong R&D team consisting of 10-20 engineers, which has helped the company move forward to a more diverse future.
In 2011, Carry launched the Apotop brand in view of demand in fast-growth emerging markets such as the Middle East and Central/South America. Establishing the brand is part of our plans to gain exposure to these markets.
In addition to focusing our development efforts on emerging markets, launching the Apotop brand is also a company move toward diversification.
The PC market has gone through several transformations. While demand for notebooks grew at a faster rate than the growth rate for desktops, we knew that the card-reader market would ultimately shrink. Now comes the era where the hot trends are mobile and cloud computing, so diversification is a must for our business development. Carry has therefore decided to shift its focus to the field of consumer electronics and we will showcase a lineup of new products at this year's Computex.
Q: Can you elaborate more on the new Apotop-branded products?
A: In emerging markets, we market not only card readers but also memory products including DRAM modules, flash drives and SSD devices under the Apotop brand. For the own-brand card reader business, we have developed a more diversified product portfolio including integrated memory card readers.
Also, acknowledging the huge demand for Apple's mobile devices, we have introduced an Apotop-branded peripheral line specially designed for the popular devices. Differing from other suppliers of Apple product peripherals, our products are to make the iPhone and iPad more convenient to use by improving the use of the devices.
For example, we have developed a series of Wi-Fi products designed specifically for the iPad to bring more convenience for the device.
The iPad's simplicity is very much appreciated. However, the absence of cable and USB ports is certainly an inconvenience for some users. For example, I take my iPad on business trips. While staying at a hotel with only wired Internet access, the device without a cable port will become an issue.
And with no USB ports and SD card slots on the iPad, you cannot expand memory on the device despite its internal memory of at least 16GB.
We have rolled out a travel Wi-Fi router designed for the iPad enabling users to set up their own Wi-Fi hot spots. The router device also comes with a USB adapter for charging the iPad, and uses an elegant white color scheme.
We have also developed a more functional Wi-Fi product, which combines a wireless router and USB adapter, and USB port and SD card slot for expanded memory. The all-in-one device is also designed for the iPad.
These new Wi-Fi products for Apple's tablets have attracted orders from the Japan and US markets. They will be officially announced during Computex.
Q: Which product line will be the growth driver for Carry in 2012? Are there any new product segments that you'll be focused on this year?
A: Sales of our Wi-Fi products designed for Apple's devices are expected to drive company revenue growth this year.
We will also introduce peripherals such as extensive memory drives for Apple's upcoming MacBook Air, which is expected to be a low-cost version. Sales of the product line designed specifically for the new MacBook Air will be another revenue growth driver for Carry in 2012.
Moreover, sales generated from our Thunderbolt-compatible peripherals will also boost the company's overall revenues in 2012. Carry is among the few Taiwan-based firms selected by Intel for its high-speed PC connection technology. During Computex we are showcasing a series of products compatible with the new Thunderbolt technology.
In addition, Carry has steady income generated from our OEM business and manufacturing plant which has six SMT lines.
Q: Which market segments will Carry be targeting in 2012?
A: We are targeting the consumer electronics market, and shifting our focus away from the traditional card reader business. In fact, Carry moved to diversify its products in 2011 and has seen the efforts bear fruit. Our sales doubled in 2011. We expect sales to continue growing this year driven by sales of our brand business and new products targeted at CE applications.
Q: The market for portable electronics devices such as smartphones and tablets is expanding. Does Carry have specific plans, such as creating a product roadmap targeting those popular devices?
A: Yes we do. As a card reader and memory specialist, we expect to utilize our existing strengths and talents to develop new products for today's consumer mobile devices. For example, the market for storage peripherals used in Apple products has tremendous growth potential.
Carry doesn't produce 'me-too' products. Instead, our products are aimed at bringing more value to the popular devices.
As I just mentioned, we have created a product line specifically designed for Apple's products. We are also looking to develop other perfect complements to today's consumer technology products, and will also continue to enhance our product diversity.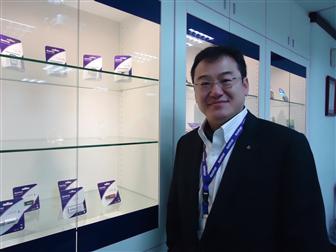 Carry Technology president Taron Chang
Photo: Jessie Shen, Digitimes, May 2012