Infrared touch: Q&A with IRTouch
Alex Wolfgram, DIGITIMES, Taipei
As early as 1993, IRTouch's R&D team started exploring infrared touch technology. It claims to be the earliest company to have a patent for the technology. In 2003, IRTouch was officially established and focused on developing and producing infrared and optical touch products.
At Computex, IRTouch is displaying its new infrared multi-touch products that can detect more than 10 touch points. The products also have multiple hand gesture recognition, faster speed, and a smoother touch experience, the company said. Its large and super-large infrared touch screens also support multi-touch, multi-people operation and multi-gestures. The company has also developed super-thin border infrared touch screens, with the border width reduced to 14mm.
IRTouch recently met with Digitimes to elaborate as to how its products have improved, and the developments it is making.
Q: How well do you expect the products to sell and what will you be doing to promote them?
A: Large and extra-large sized touchscreen panels are becoming more common across the world and IRTouch believes its products have greater environment adaptability and stability. Not only are the products seeing growth in the traditional sector with self-service equipment, they are seeing increasing growth in the touch monitor, educational and exhibition industries as well. IRTouch products have a foothold all over the world and customers are choosing our products due to their superior technology and reliability as well as our efforts to constantly improve quality.
Q: How does IRTouch provide different models for various industries to suit diversified requirements?
A: IRTouch products all have fast response, a high degree of stability, long lifespan, and are maintenance free. Products are aimed at providing solutions for industries, such as making waterproof and explosion proof products for industries that need high-protective devices. There are also anti-glare products for the aviation and military sectors. In addition, IRTouch has made its products even thinner through a new structure and highly-integrated design. The products don't need to have a control card and have a simple, yet exquisite design that doesn't require a connector cord. This has simplified the assembly process as well as creating an improved visual appearance.
Q: What are some market trends you are noticing?
A: Products that have multiple touch-screen points need to follow the development of panels and applied software, which IRTouch is very attentive to. More so, the development of touch-screen technology will be related to making machines that are more interactive with humans, so developing movement control, voice control and facial recognition will all be important, which we are actively doing.
Q: What kind of role will multi-touch products play in business and society in the future?
A: Compared with single-point touch-screen panels, as multiple-point ones provide more interactivity with people, the amount of information they can process becomes more complicated. Users demand multi-touch technology applications that can solve identification misuse, have accurate touch positioning, quick response, and at the same time support stylist and finger touch functions, anti-interference capabilities such as electromagnetism, sunlight and dampness as well as consume less energy. Multi-touch applications will have more segmentation and targeting as a result and will have different functions for different scenarios.
In addition, IRTouch also provides different models for various industries to suit diversified requirements and our products have been globally used in education, finance, transportation, retail, entertainment, telecom, healthcare, public information and broadcasting as well as in industries that require stable, durable, and environmentally adaptable screens. Our products are sold to 100 different countries throughout the world and can be seen on ATM screens as well as in subways, automobile shops, schools and major architectural structures such as the Bird's Nest and Water Cube in Beijing.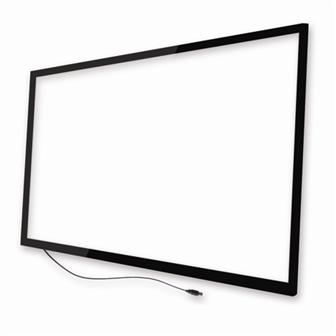 IRTouch touchscreen