Mobile Internet devices with ultimate viewing experience
Sponsored content
Friday 13 July 2012
Mobile devices nowadays offer more and more functions with screen sizes bigger than ever. However, the increased interactivity is challenged by the limit of battery life. In addition, people need to link their mobile devices to large LCD TVs to display their proposal, diagrams, video conference and games.
Besides HDMI and micro-HDMI, the mobile phone industry alliance has introduced MHL interface technology. Using the present micro-USB port, the MHL interface not only outputs 1080p video to large displays, it can also charge via the display as a source of power supply, enabling mobile devices to output images with better quality and enhanced power.
Mobile devices require large displays for HD video output
David Kuo, Director of Product Marketing for Mobile Devices at Silicon Image, Inc, said that according to the estimation of InStar in November, 2011, by the year of 2015, there will be 2.5 billion mobile devices in the world, including mobile phones, tablets, cameras and other gadgets, and applications for mobile viewing will also be a major market trend.
From digital cameras, Blu-ray players, notebooks, wireless gateways/routers, tablet PCs and smartphones, standards have evolved from VGA into 1080p (1920x1080 full HD). Processors have progressed from dual-core to quad-core, and mobile communication from 3G to 4G broadband. Gaming on mobile devices is no longer limited to simple games, but serious action games even 3D ones that are competitive to those on video game consoles.
The limit of mobile devices nowadays is the screen size. The bigger screen it has, the better interactivity it provides. But the screen size and battery life vary inversely: the bigger the screen, the shorter life the battery.
Mobile devices are also often linked to large-size displays: displaying proposal data from the smartphone by linking the device to a projector; doing video conferencing on smartphones with an HDTV; or playing games downloaded to the smartphones on a large display.
Kuo also pointed out that in order to provide the best connectivity among mobile devices and other peripherals, the video transfer interface of the new generation mobile devices needs to support HD audio & video output, interactivity without video delay, compatibility with mobile devices of common sizes. These devices must be powered by batteries and easy to design.
MHL: An aggressive competitor among HD output interfaces
At present, there are several interfaces supporting HD output: HDMI; MHL (Mobile High-Definition Link) introduced by MHL Consortium; and WirelessHD. They all provide high quality, interacting and real-time HD viewing experiences. Since its introduction in 2004, HDMI interface has been built in more than three billion devices. However, the size of HDMI ports on TVs and notebooks are still too big. To solve this problem, mini-HDMI (Type C) ports and even smaller micro-HDMI (Type D) ports have been invented, the latter also compatible with present smartphones.
As for the new MHL interface technology, it can also output 1080p60 full HD video supporting transmission of HD photos, HD videos, video conferencing and digital audio. Its back channel enables user to control the HDTV and the smartphone simultaneously with the remote control or touch panel on the HDTV, and MHL also allows users to simultaneously charge their connected devices.
The MHL interface is connection agnostic, which means it works without being tied to a specific type of connector, as long as it provides these signals: HD video/audio, data and power. The MHL eco-system has formed: There are standards and related testing equipment; there are MHL Tx, Rx component and MHL IP for SoCs; and more than 100 MHL products have been developed. In 2011, more than 50 million MHL-enabled devices were shipped in the world, and it is predicted that over 100 million for devices with MHL built-in will be shipped in 2012.
The following are displays with the MHL interface that can be found on the market: Samsung SmartTV 7000 and 8000 series LED TV (available in 46", 55" and 60"); LG LM9600, LM8500, LM7600 and LM6700; SHARP LC-xxLE745U, LC-xxC7450U, LC-xxLE845U, LC-xxLE847U, LC-xxLE8470U, and LCD-xxLX840A; Toshiba WL800A series LED HDTV; Samsung 7 Smart Station and HDTV display (available in 24" and 27").
As for MHL mobile devices, there are: HTC smartphones including Sensation, Sensation XE, EVO 3D, EVO 4G LTE, Amaze, resound, Vivid, Raider, One X and One S; HTC tablets Flyer and Jetscream; Acer smartphone CloudMobile; Fujutsu ARROWS Z ISW13F; Sharp Aquos ISW16SH; Samsung Galaxy S2, Infuse, Galaxy Note, Galaxy S3; LG Optimus LTE II, Optimus LTE, Nitro HD, Spectrum, Optimus 3D Max, Optimus 4X, Optimus LTE Tag; Pantech Vega LTE; Lenovo S2; Huawei Ascend P1/P1 S, Ascend D1, D1 Quad; ZTE PF200, Era; and Meizu Mx, OPPO Find3.
Other products and gadgets with the MHL interface: Onkyo AV Receiver; Sharp Aquos Media Station BD-AMS10U & BD-AMS20U, Roku Streaming Stick; Renesas Ultra-Compact STB Reference Board; Pioneer AppRadio 2 In-Dash Car Receiver, and MHL to HDMI, MHL to VGA connectors, MHL docks and MHL cables.
Technical differences between HDMI and MHL
HDMI uses 19-pin HDMI connector for connection. The output end transmits video/audio and power signals to the input end, while EDID/HDCP and CEC signals are transmitted from both ends. Therefore, when the smartphone is connected to the monitor via HDMI, the power signal needs to be sent from the output end (which is the smartphone), which consumes power.
There is usually one micro USB port on smartphones, and if a micro HDMI port is added, users may be confused by their similarity. The micro HDMI port will also increase the costs of components, such as transmitter ICs, connectors, ESD diodes, and CM chokes. It also occupies more space on the PCB. Therefore, the micro HDMI port may be feasible for tablet PCs, but not for smaller mobile devices.
As for the MHL interface, the output end transmits video/audio signals, but the EDID/HDCP/remote control and power signals are transmitted from the input end to the output end. The MHL connector has only five pins, and can be used the connector for any mobile device.
MHL Consortium is promoting the MHL interface in the form of the most popular micro USB connector. With a MHL transmitter chip and a micro USB connector, transfer of HD video/audio, as well as USB data transfer and charging can all be performed. By adopting this single connector with multi functions, manufacturers can remove the material cost for the second set of video connectors, save PCB space and improve the look and design of the device.
Advantage of 60Hz WirelessHD technology
Kuo also mentioned about WirelessHD, a 60GHz, almost non-delay 1080p60 wireless video transfer technology. The present 2.4/5GHz Wi-Fi technology allows users to stream video via the DLNA protocol, but when it comes to transferring 1080p60 video, the video need to be compressed first, and there can be delay for more than one second, which is quite obvious for users when playing games. Encode/decode signals are written on the original video; as a result, the video player will need to consume more CPU resource or require a high efficiency H.264 codec chip. Also, as Wi-Fi is a structure of bandwidth sharing, once it is accessed by other users, the bandwidth may not be sufficient for transmitting videos.
The 60GHz WirelessHD is a solution similar to connecting cables, with one-way bandwidth up to 4GBps. The bandwidth is 100% for video transmission only. It allows 1920x1080p60 uncompressed HD video transmission, and delays under 3ms, which users can hardly feel. It is ideal for interactive HD video and gaming.
Kuo concluded that the ability to connect HD video to a large display is the key to the development of ultimate and interactive mobile devices. HDMI, MHL and WirelessHD can all bring users high quality and interactive HD experience. For wired HDMI, MHL to WirelessHD, there are solutions readily available from Silicon Image.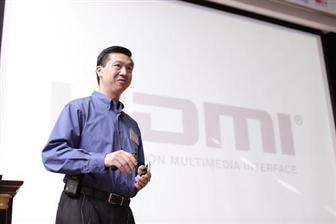 David Kuo, Director of Product Marketing for Mobile Devices, Silicon Image
DIGITIMES' editorial team was not involved in the creation or production of this content. Companies looking to contribute commercial news or press releases are welcome to contact us.