Barnes & Noble launches Nook HD series tablets
Press release, September 27; Joseph Tsai, DIGITIMES
Barnes & Noble has introduced Nook HD and Nook HD+ tablets. The 7-inch Nook HD and 9-inch Nook HD+ feature displays for reading and entertainment starting at US$199 for the Nook HD and US$269 for Nook HD+. Both are available for pre-order on Barnes & Noble's website and in stores for delivery beginning in early November.
Both Nook HD and Nook HD+ offer access to a collection of popular movies and TV shows through the new Nook Video. And an all-new built-in email app supports popular email services including Microsoft Exchange ActiveSync.
The Nook HD includes a newly invented display that delivers a resolution at 1440 by 900, with 243ppi and HD video playback up to 720p. Nook HD is armed with a dual-core 1.3GHz processor and 1GB RAM to allow the device to operate faster than Kindle Fire HD for an overall experience and 80% faster when it comes to graphics processing for smoother, faster animations, renderings, apps experience and more, the company claimed.
The 7-inch Nook HD is now available for pre-order in two colors. Starting at US$199 for an 8GB model and US$229 for a 16GB version, both feature expandable microSD memory storage.
The Nook HD+ offers a Full HD 9-inch display with resolution of 1920 by 1280 and 256ppi for up to 1080p movies, magazines and more. The fully laminated display reduces glare and provides excellent viewing angles, perfect for personal or shared viewing, claimed B&N.
Weighing 18.2 ounces (515g), Nook HD+ is easy to hold and take anywhere. The Nook HD+ is powered by a 1.5GHz dual-core processor with 1GB of RAM.
The Nook HD+ features expandable memory for even more storage with options of 16GB for US$269 and 32GB for US$299
Both Nook HD and Nook HD+ will ship in late October and be available in stores in early November.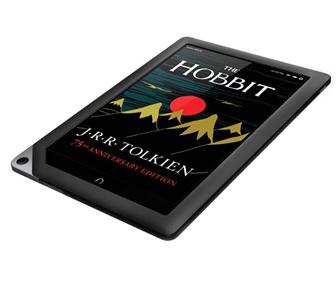 Barnes & Noble Nook HD+ tablet
Photo: Company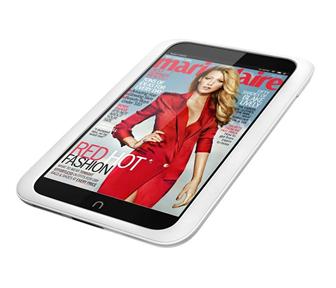 Barnes & Noble Nook HD tablet
Photo: Company