Living on the IP edge: Q&A with Vitesse CTO Martin Nuss
Michael McManus, DIGITIMES, Taipei
Monday 21 January 2013
Vitesse Semiconductor has been a major player in the semiconductor industry for the past 28 years, from its role in the telecom area in the heyday of SONET/SDH to becoming involved in the Ethernet side of the business since the early 2000s. These two business units were then merged (the telecom unit, which is primarily SONET/SDH products and the SME business unit, which focuses on Ethernet), with the company going full tilt toward carrier Ethernet, with a focus on the IP edge.
In the fourth quarter of 2012, Digitimes had the opportunity to attend the Euroasia event hosted by Globalpress in Silicon Valley, where we had the opportunity to be introduced to a number of leading technology companies, including Vitesse and company CTO Martin Nuss.
Q: Can you tell us about the Vitesse product focus?
A: We are very focused on the IP edge with low power ICs that can go into small cell base stations, femtocells and picocells in the wireless network. In 2013-2014, we expect the deployment of small cells in the network to bring us big opportunities. We thought the IP edge market was going to be a very large investment driver in the 2011-2015 timeframe so we went full in 2008 and we haven't looked back.
Q: How about the products themselves?
A: One of the key technologies we have been focusing on developing has been network timing, focusing on solutions based on the IEEE 1588 protocol (Precision Time Protocol), which provides frequency as well as time-of-day timing for wireless networks. We are currently on our fifth generation 1588 timing engine, which can meet TD-LTE and LTE Advanced timing requirements. This is currently a very important area because of the shift to packet switched networks (PSNs). What I mean is that timing used to be provided by the TDM network or GPS but both of those are not really viable options in an IP world.
We also provide very sophisticated carrier Ethernet switch engines - with all the timing integrated. These solutions include strong feature integration such as for OEM operations, administration and maintenance. In terms of design wins, 2011 and 2012 were really good years for us primarily based on the 1588 timing capabilities in our ICs but also for the very low power switch engines for the mobile access base.
Q: Obviously LTE is driving these opportunities. Can you tell us about the deployment scenario and investment profile you are seeing in the market, and the opportunities they are bringing Vitesse?
A: The first step LTE service providers made was upgrading their macrocells to be multi-mode (2G/3G/4G) so they could accommodate getting decent coverage for users that have LTE compliant handsets, mobile devices and tablets. This has been going in the US, Japan and Korea in a very significant way. Europe is a little behind but is catching up. In China, China Mobile has said that it is going to roll out LTE in the late 2013 timeframe no matter what.
In line with this trend, the key for us over the past few years has been our strength in 1588. The upgrade of the macro nodes to multi-mode has gone hand in hand with a transition from the traditional TDM backhaul connections to gigabit Internet and IP Internet connections. Now all of a sudden you don't have the timing provided by the TDM network. You need to provide timing either from GPS or from the network itself using the 1588 protocol. Our strength in 1588 has given us big opportunities in the upgrade of the entire mobile backhaul network, in areas such as cell site routers, aggregation routers and pre-aggregation routers as part of.
In terms of timing, in new networks such as TD-LTE and LTE Advanced, we are talking about precision measured in parts per billion in frequency accuracy. They also need very accurate time of day and phase alignment between adjacent cells, as well as between macro cells and small cells, on the order of nanoseconds. The overall budget for LTE Advanced in terms of timing accuracy is about 500 nanoseconds, but you have to be able to maintain that over 20 or 21 network elements and you may have some network elements in between that are not timing aware. You might have DSL links at the last mile, or you may have microwave links at the last mile, that have issues with timing capabilities. And so those 500 nanoseconds are gone very quickly. So by providing highly precise 1588 timing in our switches and our PHYs we basically can guarantee that whatever our customers may do, the network elements that include our devices are not contributing significantly to any timing errors in the network.
Q: Can you tell us what you expect moving into 2013?
A: While the early LTE investment focus has been on coverage based on existing macro cells, these macro cells cannot provide the capacity needed for widespread LTE acceptance. As soon as you get enough LTE devices on the network you will need to start implementing small cells in addition to the macro cells in order to provide capacity in addition to coverage.
As I mentioned previously, Vitesse is very focused on the IP edge with low power ICs that can go into small cell base stations, into femtocells and picocells in the wireless network. So the biggest opportunity for us in 2013-14 is the deployment of small cells in the network.
For us it is important for two reasons - small cells require significant networking capabilities so it is not just point-to-point connectivity problem anymore because these small cells sit on lamp posts, or they sit on traffic signals, or they are placed in urban canyons. This means it is very hard to get them connected in a point-to-point fashion to some central aggregation point. So they are going to be connected primarily by microwave or millimeter wave technology. Research firm Infonetics recently forecast that almost 90% of small cells will be connected with microwave/millimeter wave technologies because those lamp posts and traffic signals don't have fiber or DSL connectivity.
This has really changed the small cell backhaul problem from a point-to-point connectivity problem to a fairly sophisticated networking problem and we are the primary vendor for low-power networking switch engines that can be deployed with these small cells. We provide the backhaul IC chips that allow these small cells to be backhauled in a daisy chain or a partial mesh along the streets in urban corridors or urban canyons and then haul those back to a central aggregation point, but not in a point-to-point fashion.
Q: Can you expand on your statement that you are the primary vendor for this segment?
A: Most of these small cells have very tight power requirements, typically around 13 watts power over Ethernet power envelopes. Our competition can provide Carrier Ethernet switch chips with between 8-10 watts power and that would completely blow the 13 watt power envelope. We introduced switches in 2012 (called Serval) that are actually 1.5 watt chips that have all the timing capabilities, all the carrier Ethernet capabilities and are also MEF Carrier Ethernet 2.0 compliant at a 1.5 watt power envelope. We are really dominating today in the market for equipment for microwave/millimeter wave small cell backhaul.
And because these cells are sort of daisy chained along the street level or there is a partial mesh, you need to provide more than connectivity. You also need to provide quality of service (QoS). You need to provide multiple classes of service for different traffic classes. You need to provide virtual Ethernet. You need to provide virtual connections to the different small cells along the way as they are being accumulated and aggregated from small cell to small cell.
All of a sudden it has become a very complex networking problem where you need a sophisticated MEF CE 2.0 compliant switch. Traditionally these are on the order of 10 watts and you just don't have that in the small cell/small cell backhaul environment. Again, we provide a sophisticated switch engine optimized for this application at 1.5 watts.
Q: You said the deployment of small cells in the network is important to Vitesse for two reasons. What is the other reason?
A: It goes back to timing. I mentioned previously that network timing solutions could use GPS as a timing source. That may be OK in the United States and it may be OK in a macro station but it certainly is not OK for small cells, because they sit at the street level. GPS is well known, even in the US, to be susceptible to jamming and spoofing so you can change the time or jam the GPS signal and completely bring down the wireless backhaul network with cheap jammers that can be bought online.
And that is a huge concern for mobile backhaul network providers. So IEEE 1588 is a much more reliable network-based timing technology and is becoming increasingly important. That is the other component that Vitesse provides. We are the leading 1588 timing provider in the industry.
Q: Can you comment on what you see going on in China in terms of TD-LTE?
A: China Mobile said it intends to deploy LTE in the 2013 time frame. As you said, China will use the TD-LTE flavor of LTE where the network timing requirements are much more stringent, this will be very beneficial for us. We are looking forward to the rollout.
The other activities that we are involved in with China Mobile and its suppliers is cloud ran (C-RAN). A technology where instead of baseband processing being located at the cell side, it is done in a server that can be further down the network. The server does all the baseband processing and then the actual radio signals are being transported over fiber, or with our technology over microwave or millimeter wave, to what is called a remote radio head (RRH) or a remote radio head unit (RRHU). We are involved in R&D with China Mobile and its suppliers in this area. The timing requirements between the C-RAN servers and the remote radio heads are extremely stringent and we can supply precise timing to the remote radio heads.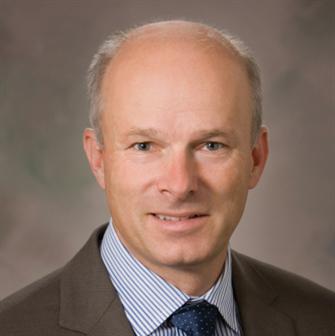 Martin Nuss, CTO Vitesse
Photo: Company