Transforming the mobile productivity and gaming experience
Sponsored content
Monday 29 July 2013
Two HD connectivity standards, MHL (Mobile High-Definition Link) and 60Hz WirelessHD, are revolutionizing the mobile productivity and gaming experience, unleashing the full potential of today's mobile devices.
Mobile connectivity solutions enhance productivity and gaming applications
David Kuo, senior director of marketing for mobile products at Silicon Image, cited market analyst data indicating that total shipments of mobile devices, such as smartphones and tablet PCs, will reach 1.8 billion units globally by 2016. Mobile technologies have seen dramatic shifts, such as 4- to 8-core CPUs, 60 GPU cores and 3G and 4G communication standards, as well as mobile multimedia playback on any platform. Meanwhile, the screen resolution is moving from standard definition to QXGA (2048 x 1536), with Ultra HD (4096 x 2160) coming soon.
Not only can smartphones be connected to desktop or laptop displays to provide a PC experience, but mobile gaming is also growing in popularity. There are currently 1.5 billion gamers worldwide; 96% of them play mobile games at least once a day at home and 57% of them have chosen to use a mobile device as their primary gaming platform. MediaTek is working with game developer GameLoft to preload games to mobile devices; Samsung is collaborating with Electronic Arts (EA) to release EA games to Samsung's app store; and gaming accessory manufacturers such as Nyko, Moga, and Green Throttle are focusing on developments for mobile accessories.
With both MHL and WirelessHD connectivity, consumers can enjoy an immersive mobile HD experience
Kuo indicated that given the latest advancements in mobile applications processors, mobile devices are capable of supporting functions similar to PCs, gaming consoles, TVs, and infotainment systems in automobiles. Smartphone architecture and performance are no longer an issue and the only limitation is their small screen size. Even with the oversized 5.5- to 6-inch smartphones (such as Samsung Galaxy Note 2), their screens are still too small for productivity work (such as using Office), multimedia playback, gaming, or even on-board GPS information display. Therefore, connectivity technologies such as the Mobile High-Definition Link (MHL) is needed to allow mobile devices to be connected to larger external screens.
The MHL Consortium, founded by Nokia, Samsung, Silicon Image, Sony and Toshiba, has developed the MHL standard for connecting mobile devices to large displays. MHL delivers 1080p, 60Hz uncompressed video with up to eight channels of digital audio while charging the mobile device. Using the existing connections on the mobile device, DTV or monitor makes it simple for consumers to "plug and play" their HD content. Consumers can also use the DTV remote control to control the mobile device.
So far, four out of five major smartphone brands have adopted MHL. It is estimated that as of the first quarter of 2013, the accumulated number of devices with MHL support reached more than 220 million for smartphones and tablets, and more than 40 million for TVs, monitors and adapters. There are over 300 device models supporting MHL.
The MHL standard challenges traditional usage models by enabling new applications for PC/productivity, gaming and entertainment. Kuo indicated that MHL technology is being incorporated in the newest TV sticks. MHL-enabled TV sticks developed by Roku offer customized video streaming services. Dell has developed the Ophelia terminal PC stick, which converts an MHL-enabled TV into an Android-based smart PC client. PlayJam has also launched the GameStick that turns a TV into a game console through the MHL connection.
MHL technology is connector agnostic, using the most popular connectors on a mobile device and display to transmit video/audio as well as EDID/HDCP/remote control and power signals. For this technology to work, the mobile phone must be equipped with an MHL transmitter chip and the TV/monitor with a receiver chip. For legacy TVs, MHL adapters can be used to connect the mobile device and large display.
MediaTek's MT6589 quad-core smartphone reference design incorporates Silicon Image's SiI8338 MHL 2.0 transceiver chip. So far, seven OEMs have released MHL smartphone models based on the MediaTek/Silicon Image reference design.
In addition to enabling output to large TVs and monitors, the SiI8338 MHL 2.0 chip uses media data tunneling (MDT) technology that supports touch screen, keyboard and mouse functions.
WirelessHD offers a seamless and robust connectivity solution
According to Kuo, 60GHz Wireless HD delivers the highest-quality full HD video with near-zero latency. WirelessHD enables a high performance wireless connection for cable replacement applications between mobile devices and the large displays that are in the same room. While the 2.4GHz/5GHz dual-band Wi-Fi technology of Miracast allows multi-room transmission, it suffers from signal interference and latency issues. MHL allows optimal HD output with zero-delay, and its only limitation is that it requires a cable connection.
Tests using the GLBBenchmark 2.1 Egypt software to compare Miracast's transmission technology and WirelessHD showed that the former frequently experienced signal packet losses that resulted in mosaic images during gaming due to an unstable wireless connection. The WirelessHD result presented high-quality images with ultra-low latency. In another test where a gaming session was transmitted wirelessly from a smartphone to a TV, Miracast experienced a 200ms delay, which resulted in a poor interactive gaming experience, while WirelessHD had no visible delays.
Silicon Image's UltraGig 6400, the world's first single-chip 60GHz WirelessHD mobile transmitter chip in a 10mm x 7mm integrated system-in-package, offers wireless video transmission supporting up to 1080p 60Hz resolution, and the maximum power consumption is only 500mW.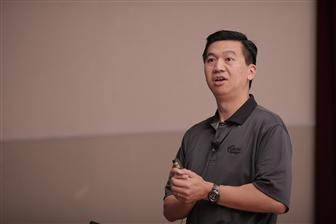 David Kuo, senior director of marketing for mobile products at Silicon Image