Corning glass solution for touch-enabled notebooks
Sponsored content
Wednesday 31 July 2013
Apple chose Corning's cover glass when looking for a scratch-resistant material for the screen of its first-generation iPhone. The success of iPhone prompted other manufacturers to adopt the same glass material, allowing Corning's cover glass to become a mainstay for touch-enabled electronic products. Corning has since developed even better scratch- and damage-resistant glass products.
Scratch-resistant glass for mobile devices
If the Apples iPhone is the pioneer of the smartphone market, then Corning, the creator of Gorilla Glass, is the leading manufacturer that opened up the scratch-resistant glass market. Steve Jobs' memoir revealed that six months prior to the launch of iPhone, he had asked Corning's CEO to mass produce Gorilla Glass for the iPhone.
Gorilla Glass is made using Corning's proprietary furnace process that delivers unparalleled surface quality comparable to that of the company's LCD glass substrates. No heavy metals are used processing Gorilla Glass, which is environmentally friendly. Gorilla Glass is RF compatible, and has outstanding optical clarity. It can be applied to high-definition and 3D displays.
Gorilla Glass has been adopted by many other devices, such as the iPad, Android smartphones and tablets. According to statistics, Gorilla Glass was used in 200 million cell phones in 2010, with a 20% market share. In 2012, Corning launched Gorilla Glass 2, which is 20% thinner than the first generation, with the same strength and increased sensitivity. Gorilla Glass 2 enables thinner devices and by the fourth quarter in 2012, it had been adopted by more than one billion mobile devices. So far, more than 1.5 billion devices have adopted Gorilla Glass 2.
Gorilla Glass 3
Corning is the leading manufacturer in specialty glass and ceramic materials. From manufacturing glass for incandescent light bulbs in the early days to producing LCD glass for the present FPDs, Corning has been eager to innovate and create value for customers. The popular Gorilla Glass has been adopted by numerous cell phone and tablet PC manufacturers. Now Corning has launched Gorilla Glass 3. Dr David Chen, director of the Asia Commercial Technology-Specialty Materials Department for Corning, introduced the new glass during the forum, and talked about the prospect of touch-enabled notebooks.
Launched at CES 2013 and exhibited at Computex 2013, Gorilla Glass 3 is made using Corning's exclusive Native Damage Resistance (NDR) technology that allows the glass to absorb more force to prevent breaking. Compared to the second generation product, Gorilla Glass 3 is three times more scratch-resistant, and has a higher post-scratch strength. A video clip of testing on Corning's glass products was shown at the forum. Test results show that scratches will occur on Gorilla Glass 2 under 0.5kg of external force, but Gorilla Glass 3 will not produce visible defects even under the same force.
Concore Glass for OGS touch
For touch panel solutions, there are currently double glass (G/G), glass/film (G/F), one glass solution (OGS), as well as on-cell and in-cell processing technologies. Because costs for G/G and G/F are higher and the market tends to prefer slimmer, lighter, and lower-cost devices, OGS and in-cell/on-cell solutions have become popular.
OGS is suitable for larger screens. The technology is mature, and costs less than on-cell or in-cell solutions. It is suitable for touch-enabled notebooks. However, touch-enabled notebooks have relatively larger displays that are more prone to wear and damage than those of cell phones and tablets. Chen noted that a 2012 market survey found that touch-enabled notebook users often complained about scratches on the screens, which is twice more likely to occur compared to cell phones and tablets. Therefore, the market needs a more durable and scratch-resistant OGS touch panel solution.
Corning has introduced Concore Glass. It is a full sheet ion-exchanged glass that enables integrated touch or one glass solution through ITO deposition on large-sized glass. Concore Glass enables smooth and seamless design, and its high touch sensitivity supports the most sophisticated electronic devices.
Concore Glass supports full-screen lamination technology for OGS, which effectively reduces the display thickness. Compared to soda lime glass (SLG), Concore is eight to 10 times more scratch-resistant and five times higher in compressive strength. When a piece of CT30 Concore Glass (0.55 mm in thickness) is compared to a SLG glass of the same thickness, a force of 2N will shatter the latter while the former will remain unscathed.
Chen also gave an on-site demonstration of the strength of Concore Glass. SLG will often crack if you accidentally poke the side of the display with a pen, or lift a notebook by the edge of the screen. However, these will not happen if the screen adopts Concore Glass. Chen even stamped on a piece of Concore Glass heavily, but it did not even show any scratches.
Accordingly, G/G and G/F touch panels can adopt Corning's Gorilla Glass, and OGS panels can adopt Concore Glass.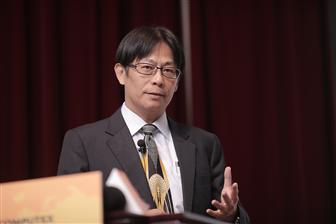 David Chen, director of Asia Commercial Technology-Specialty Materials Department for Corning