Asustek introduces Maximus VI Impact mini-ITX gaming motherboard with Intel Z87 chipset
Press release; Joseph Tsai, DIGITIMES
Monday 19 August 2013
Asustek Computer has announced the Maximus VI Impact, a mini-ITX gaming motherboard based on Intel Z87 chipset for the fourth-generation Intel Core processors.
The Maximus VI Impact features the SupremeFX Impact discrete sound card for 115dB SNR audio and Impact Power digital power-management technology for the same overclocking control as ROG full-size ATX motherboards. The Maximus VI Impact also features connectivity with onboard 802.11ac Wi-Fi and Bluetooth 4.0.
The ROG Maximus VI Impact features the SupremeFX Impact discrete sound card with a custom design that keeps the PCI Express x16 slot free. The dual-differential circuit design splits the audio chip's analog signal into opposing phases that are combined by four operational amplifiers (op-amps) to produce a single, stronger and cleaner output, while ELNA audio capacitors help provide smooth high and low-frequency signals to deliver warmer sounds, the vendor said.
The Maximus VI Impact also features Perfect Voice technology that uses active noise cancellation on the microphone input to keep VoIP chat clear in noisy environments, and Music PnP technology that allows external sound sources to play through PC speakers when the PC is shut down. Together with exclusive SupremeFX Shielding that reduces audio distortion from electromagnetic interference, lossless 115dB output and the ability to drive high-impedance headphones (up to 600ohms).
Based on ROG Extreme Engine DIGI+ III technology, Impact Power is compact voltage-regulator module (VRM) with 60A BlackWing chokes and 10K black metallic capacitors that gives precise digital power management for complete overclocking control that is on a par with ROG full-size ATX motherboards, the vendor said.
Other bundled tools include ROG RAMDisk that allows up to 80% of a computer's available RAM to act as a high-speed virtual drive for accelerated game-loading times, while SSD Secure Erase built in to Maximus VI Impact's UEFI BIOS lets users quickly restore drives to a factory-fresh condition for the best possible performance.
Built-in diagnostic and troubleshooting features on the I/O backplate make it easier for PC enthusiasts to test different overclocking configurations with ROG Maximus VI Impact. The Q-Code display shows two-digit codes for rapid identification of POST errors, while pressing the DirectKey button enters the UEFI button immediately. Maximus VI Impact also features a MemOK! button on the motherboard that automatically loads failsafe memory settings when overly aggressing timing prevents the PC from booting.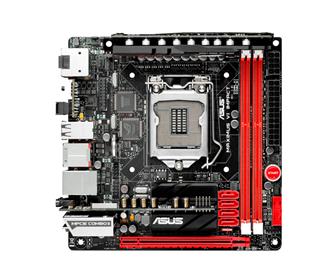 Asustek Maximus VI Impact mini-ITX gaming motherboard
Photo: Company