Seeking unlimited possibilities of Liquid Crystal and discovering new applications for daily life
Press release
Wednesday 20 November 2013
Held every two years, the Merck LC Insight seminar is a communication platform for Merck and Taiwanese display innovation experts to discuss the topics of latest liquid crystal materials. During this year's seminar, Merck presented special materials for advanced liquid crystal (LC) applications, opening up opportunities in these industries with a convincing product portfolio.
Several Merck experts from Germany and the UK introduced new LC materials for display applications to the invited guests. The company demonstrated its technology leadership to industry experts and customers, with a face to face discussion session at the event.
Several new technology samples were displayed in the demonstrated booths in the event, which attracted a lot of attention. The new emerging applications Merck presented including new LC materials as well as OLEDs, RM (Reactive Mesogens), flexible displays, photovoltaic, 3D, Smart Antenna and LED lighting solutions. There were more than 250 invited guests from the field of displays, lighting and new technologies in the event.
On the sidelines of the event, Dr. John Lee, Director-M&S Unit of Performance Materials – Liquid Crystals, and Dr. Karl Skjonnemand, RD Director also provided a further look at the development of the current liquid crystal applications and its future trends, and offered some suggestions to Taiwan display manufacturers.
Taiwan panel makers shake up the industry with differentiation strategy
Merck's product can be divided into 3 major categories of (1) Display, (2) Lighting, and (3) Photovoltaic. The demonstrated products in the seminar are distributed and cross-used among these three major areas. However, Merck's liquid crystal is still mainly applied in Taiwan in the display field.
Dr. Lee observes that Taiwan display panel makers' new innovative products are leading the trend, including large-sized panels, high-resolution 4K2K TVs, and Wide Color Gamut LCD with 100% NTSC ratio. Those new developed products effectively raised Taiwan panel maker's competitiveness and re-position them to a new market segment.
The reason for this successful step, Dr. Lee mentioned, is that Taiwan panel makers took a brave step to create product differentiation. This is the key for the transformation.
Dr. Skjonnemand agreed that 10 years ago Taiwan makers were very good at being a fast follower, but within the past 5 years, he noted that Taiwan players are more confident to leverage their own strength in new product development. By accumulating many technology improvements, they are able to produce very innovative products. The result is an impressive series of new product lines, such as super narrow bezels, 4K2K TVs, Wide Color Gamut technologies and even "Curved" LCD panels, which have shaped the market.
From the cost perspective, advanced LCD TVs are highly competitive compared to OLED TVs. Although still newly introduced, the 4K2K TV is seen with a great potential to be the next big thing for future TV market. Now about 70% of 4K2K TV is produced by Taiwan, and with the coming of 2014 world cup games, it is anticipated that a boost in demand will help the market to expand in many countries.
Apart from the new products, Taiwan panel makers have found a special supply-demand relationship with the TV brands, Dr. Lee highlighted. There are more than 30 TV brands in the market right now, but only 8 major panel manufacturers in the world. This allows panel makers to lead the mainstream specification instead of doing the ODM in the old days. The 4K2K TV is a good example of TV brands following a new product introduced by panel manufacturers. Now Taiwan panel makers have become the game changer due to the brave steps they have taken with the differentiation strategy.
Merck's new technologies inside Taiwan panel maker's innovative displays
The high-resolution 4K2K TV, with 4 times higher resolution compared to Full HD TV, requires high transmittance and fast switching new PS-VA liquid crystal materials from Merck, in order to keep brightness, efficiency and cost levels for the TV. This massive improvement in the material innovation supports Taiwan panel makers to build 4K2K TV to high standards. The synergy of technology innovation between Merck and Taiwan panel makers is proven to be impeccable over the years.
New advanced FFS materials have also been developed by Merck and are applied in small electronics devices such as smartphones and tablets. Its high transmittance feature allows a better use of back light source, which can effectively reduce the power consumption to sustain a longer usage time for smart devices.
"Smart Windows" applications enable Blue Ocean Strategy
For surviving in the high competitive LCD industry, Taiwan panel makers need to look for opportunities beyond displays and discover a new "Blue Ocean". Merck held its Displaying Futures symposium in Taiwan last year, and the topic "Smart Windows" was most widely discussed by experts from various fields; and therefore was considered to be the product with most potential in future living.
"Smart Windows" is a new technology that will be used in the construction industry for energy saving and privacy applications. Liquid crystal materials can be applied in several different configurations to provide electrical switching for privacy shades, which then can help control room temperature. Alternatively, optical films made from reactive Liquid Crystals for simple mechanical windows shutters. Both of these applications provide modern stylish solutions for architects, designers and builders.
Energy saving windows is particularly valued for glass facades on skyscrapers. Merck has invested in technology to enable switchable Smart Windows using liquid crystals and fluorescent dyes to absorb light, providing shade, which is then channeled to photovoltaic cells at the edge of the windows providing the power to switch the window. By blocking the external light, the interior temperature can be maintained at a certain level, thus achieving the goal to save energy and reduce power consumption. In addition, the thin and light features of smart windows allow space benefits for modern architecture design. In the future, smart window technology could eventually become a basic component in green buildings design.
The Green Building industry and government energy policy is closely tied together. The government's incentive program to reward green building owners will be the driving force in that market. Many big enterprises are also willing to invest in green buildings due to social responsibility reasons. Nevertheless, sustainability and energy saving has become a global trend, and with the government and enterprises' joint effort, the industry will be fast growing in the near future.
The market for "Smart Windows" will be about 10 times more than the current LCD manufacturing capacity. To Taiwan panel makers, this is a tremendous business opportunity. However, to enter a new field, a new business model is required. Despite Merck being the leading supplier for liquid crystals, it takes much more than a material suppliers effort to shape an industry. Now Merck is looking for collaboration partners to realize the dream of incorporating Smart Window in a landmark green building.
Merck's intention to depict future living with the Displaying Futures symposium will not stop. In addition, Merck will continuously support Taiwan panel makers to develop differentiated products to drive the momentum for innovation that Taiwan has started.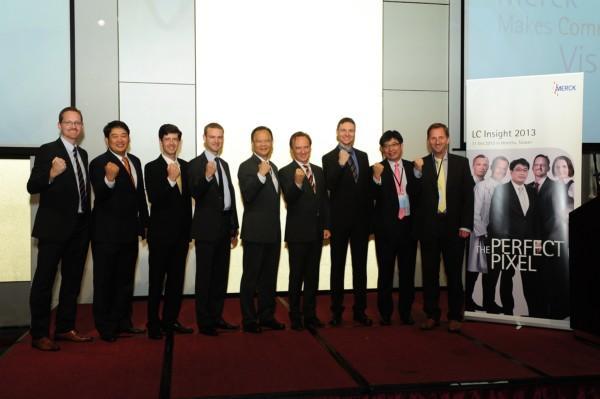 The Merck LC Insight seminar is a communication platform for Merck and Taiwanese display innovation experts to discuss the topics of the latest liquid crystal materials.
DIGITIMES' editorial team was not involved in the creation or production of this content. Companies looking to contribute commercial news or press releases are welcome to contact us.