The developments of the security solutions market in Greater China: Q&A with EverFocus product marketing manager Tony Lin
Alex Wolfgram, DIGITIMES, Taipei
Wednesday 12 March 2014
The security solutions market is an increasingly important market as the IT industry develops and security concerns strengthen. In Taiwan, security solutions providers such as EverFocus Electronics have watched the market develop for nearly 20 years and have witnessed not only how demand has developed, but also how companies compete amid increased competition.
To understand how the security solutions industry is developing in Taiwan, particularly amid competition from China, Digitimes sat down with EverFocus product marketing manager, Tony Lin, to learn how the company is reacting to such developments and what kind of strategies are helping the company maintain a competitive edge.
Q: How is the security solutions market developing and what does this mean to EverFocus?
A: The security market is already quite mature and has a history of at least 30-50 years. The industry has seen the time of CCTV, then tape to hard disk, appliance to computer, and later computer back to appliance back in the early 2000s to become as the standard market DVR. In the last five years IT surveillance has grown particularly strong, with cameras, networks and recorders at the forefront. Simply put, this structure will always be the same regardless if there is cloud service because the same process applies. Really the biggest new thing to this setup is the use of mobile devices such as smartphone and tablets for more viewing options, but overall the structure is the same.
What is changing though is the competition in the market. As of now Taiwan makers face challenges from China in terms of production capabilities in addition to low-cost solutions. It's already pretty clear that Taiwan IT surveillance makers have no way to further compete in this regard. So what direction is EverFocus going in? Customized services. Right now there are very different demands from customers for IT surveillance used in a variety of segments, so catering to customer demand is crucial. EverFocus focuses on having fast responses to customize, assembly or integrate solutions for its customers. It's not simply bringing another one of our products to the tablet for a customer; rather, react to the specific needs of each customer by making customized solutions. We are system integrators for system integrators in a manner of speaking.
The IT industry has influenced not only the surveillance industry but also all industries around the world. As the security industry shifts and integrates more and more with IT, traditional surveillance systems cannot satisfy consumers' needs as before. We have to transform from analog to IP, and act as a service-orientated solution provider.
Q: What is EverFocus' advantage over its competitors?
A: We think our system levels have an advantage over our competitors, so taking on such a business model for EverFocus works well and also satisfies market demand. Of course, we have new and cutting-edge technology, but there needs to be more than that for a company like EverFocus, otherwise if we are just focused on a low-cost and low-profit business model, it would be very difficult to sustain. System integrations and solutions are important for Taiwan makers whereas China makers' solutions currently are product portfolios and product lineups. EverFocus also has 18 years experience in the industry and maintains close relations with its customers.
Q: Why are security solutions important for companies?
A: The way certain companies or organizations access security information is increasingly complex and customized. The methods by which, say, a camera captures video and transfers it back to a given database is essentially the same in the industry but the way that information is accessed is different. This has created increased demand for services such as POS integration, which can vary differently from customer to customer, so having a team that can react to such demand and offer companies comprehensive solutions to meet growing concerns is crux.
Also, security solutions provide convenience for companies. Information is the most valuable asset to any company in the future, and should be protected and stored completely to ensure confidentiality, integrity and availability. EverFocus products can help companies protect important assets from various threats and make managing and securing confidential data no longer a problem.
Q: Is there any risk in making solutions, such as extending services to mobile applications?
A: There is risk, especially with information security. It depends on the customer's demand whether they want something that is powerful or something with limited usage. If you are creating an application for a mobile device that only requires a login and password, then there is going to be more risk. But we write high-security programs for our customers so information security for EverFocus is not really an issue.
Q: What challenges do companies like EverFocus face?
A: Selling cycles or response cycles are increasingly quicker, which combined with increased customized demand brings no shortage of challenges, so being efficient is crucial. So how does your business team become more efficient? A good way of doing that is through improving the culture and business process, which EverFocus has focused on over the last few years.
Our platforms and production facilities have also made improvements, and we also stress interface integration performance capabilities in order to keep up with customer demand, so this is a challenge. However, taking on such challenges is what gives EverFocus its overall customized solutions service an advantage in the market, so they are also welcomed. All these factors together are what make our business structure.
Q: Is such customized service also what's in demand in emerging markets?
A: Basically yes. However, because some emerging markets want pricing for products to be lower than what we produce them at, there needs to be a service attached as well. If there isn't such a business model then orders could just be shifted to China. Having a value-added service is important, so creating that service in order to meet trends in the market is something we are constantly researching.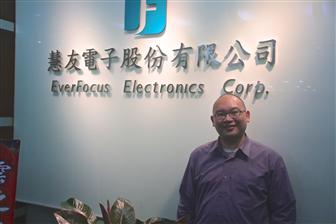 EverFocus product marketing manager Tony Lin
Photo: Alex Wolfgram, Digitimes, March 2014