AAEON Releases Three Embedded Boards Based on Intel Celeron J1900, N2930, N2807 and AtomTM E3800 Series Platform at Computex
Press release
Friday 30 May 2014
AAEON, a major developer of industrial computing solutions, today released products based on the new Intel Celeron J1900, N2930, N2807 and Atom E3800 series processors.
The AAEON GENE-BT05 is a 3.5" board that despite being based on the new Intel Celeron and AtomTM series platform still offers support for legacy LVDS panels in addition to the more common HDMI and VGA standards. In offers a highly competitive I/O interface, with four USB ports, one SATA port, four serial ports and two Ethernet ports. "The new Intel Celeron J1900, N2930, N2807 and AtomTM E3800 series platform offers support for Microsoft Windows 8, more efficient power usage and improved performance, but is not designed to support LVDS. We decided to support LVDS, so that customers can save on costs when upgrading their computing boards" said Wayne Chen, CTO of AAEON. The GENE-BT05 also offers optional support for CFast and mSATA, and a 4/5/8-wire resistive touch screen controller. With 3G/4G support (on MiniCard and SIM slot) and lower power consumption design, the GENE-BT05 is suitable for building automation, factory automation and medical equipment.
The AAEON COM-BT is a new COM Express type 6 module with extensive display support with several SKUs based on the Intel Celeron and AtomTM series platform. There are two simultaneous display outputs with your choice of VGA, DVI, HDMI, DP and eDP. The board is engineered to handle future display and system upgrades simply by changing the computing module in the application. Easily adjusting the onboard switch, users can have either LVDS or eDP from the onboard connector. The COM-BT module comes with AAEON's Q Service, a service with a dedicated R&D team to review carrier board designs to help customers reduce the time spent on trouble shooting, and to help expedite the development process, thus shortening the new product's time-to-market. In addition to its comprehensive display support, the module also offers eight USB 2.0 ports, one USB 3.0 port, two SATA ports, and three PCIex1 ports and two serial ports.
The AAEON EMB-BT1 is a thin Mini-ITX embedded board supporting Intel Atom E3800 series processor. It comes with two SATA 2.0 ports, two SATA 3.0 ports, one PCIe x1, six COM ports, eight USB ports and two Gigabit Ethernet ports. With its rich I/O design and dual display support (VGA or HDMI or LVDS), the EMB-BT1 is ideal for digital signage, POS, Kiosk and networking applications, to name a few.
Samples of the GENE-BT05, COM-BT and EMB-BT1 will be revealed to the public in AAEON's booth at Computex in Taipei from 3rd to 7th June, 2014 (AAEON booth K0315a).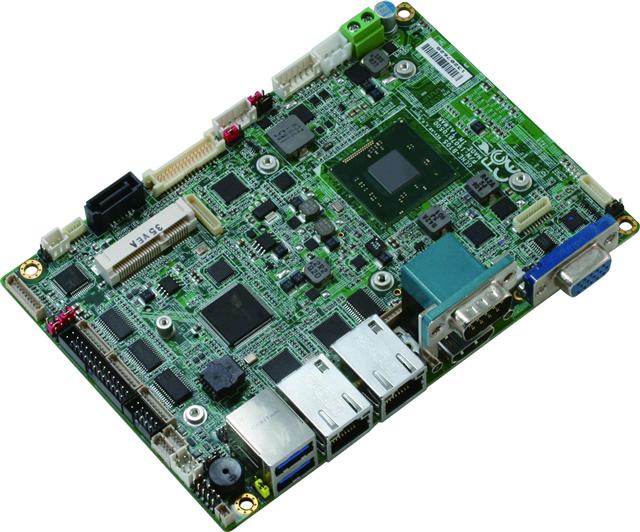 AAEON's 3.5" Board has leading role in rich I/O feature, supporting LVDS for 4th Genertion Intel Atom E3800 series
DIGITIMES' editorial team was not involved in the creation or production of this content. Companies looking to contribute commercial news or press releases are welcome to contact us.