Business collaboration issues are hot in COMPUTEX; team+ realizes high-performance business communication & collaboration
Press release
Wednesday 7 June 2017
team+ has been invited by the Ministry of Economic Affairs to attend the largest international exhibition, the "Taipei International Information Technology Show (COMPUTEX Taipei)". As the gold medal winner of the APICTA communication award and the APEC mobile-commerce team winner, we exhibited our "team+ Business Instant Messaging" to show Taiwan's development and innovation in the information communication field.
Digitization revolution; InnoVEX focuses on business collaboration solutions
According to the joint research of the international data groups "IDG" and "EMC", about 90% of business owners say that achieving a digital business is their top priority in the next one to three years. With the popularity of smart phones and flourishing of cloud services, businesses are entering the mobile digital communication age. This year, the software giants have begun entering the field one after another and the business communication collaboration market has formally entered a major growing period.
Teamplus Technology owns the famous "team+" brand. Kuo Cheng-Hsiang, the founder and chairperson of team+, says that the communication culture of eastern countries is different from that of western countries. Businesses in Europe and America emphasize open-type communication and focus on team communication, discussion, collaboration and the like. Businesses in Asia, however, not only emphasize communication efficiency, but also focus on hierarchical management. For this reason, it was necessary to introduce our business announcement single-direction communication, API connection, back-end management mechanism, etc, and to begin establishing a dedicated communication and collaboration system in a private cloud environment.
Private cloud structure; satisfying businesses' high information security requirements
There is another important reason why businesses prefer the private cloud: it is the rigid demands of information security, which makes the businesses want to store their information in their own countries so as to make sure that confidential data will not be leaked. team+ is deployed by private cloud, and provides strict content encryption and anti-assembling mechanisms Further, the encryption technique used by team+ has obtained international certifications from the National Institute of Standards and Technology (NIST) and "Federal Information Processing Standards FIPS 140-2", leading to the first successful instant messaging software in Taiwan.
In addition, team+ provides an "API interconnection management mechanism" to expand, be embedded into, and be integrated with the existing E-systems of businesses. In this way, businesses can connect their systems to various mobile applications to immediately push all important notifications to all relevant groups or staff, resulting in improved operational performance.
On the other hand, team+ provides dedicated customization services for businesses. EVERY8D has accumulated lots of experience implementing projects helping the government or businesses establish communication & collaboration platforms. EVERY8D customized the platform for each business according to their industrial situation. Examples of team+ integrating its core application flow into platforms include government agencies, land transport, marine transport, air transport, high-tech manufacturing, medical institutions, consumer good brands and other various industries.
Kuo Cheng-Hsiang emphasizes that only innovation can increase the value of a brand. After competition becomes fierce in the business instant messaging market, our highest priority is making changes in response to the competition, leading the industry to enter major markets, creating high-performance business communication & collaboration experiences and speeding up the business digitization transfer.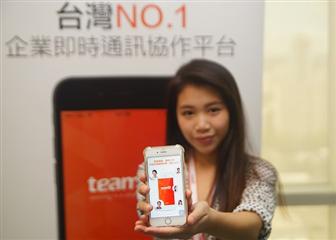 team+ realizes high-performance business communication & collaboration.