TV panel prices to stabilize in 1Q 18, says firm
Rebecca Kuo, Tainan; Steve Shen, DIGITIMES [Thursday 7 December 2017]
Global TV panel prices are expected to stabilize in the first quarter of 2018 after dropping slightly in December 2017, according to China-based marketing research firm Sigmaintell.
Although some new production lines will come online in the first half of 2018, initial output from those new facilities will be limited due to low yield rates, and therefore the overall panel production will increase only 2% in terms of display area in the first half of 2018, Sigmaintell estimated.
Global demand for TV panels is expected to edge up by merely 0.3% in terms of unit shipment in 2018. The average size of TV panels is expected to grow 1.7 inches in 2018, which will translate into an annual growth of 8.5% in demand by panel area for the year, Sigmaintell said.
Meanwhile, quotes for various sizes of TV panels will fall slightly in December. Prices for 32-inch LCD TV panels will drop US$1, and those for 40-, 43- and 49-inch panels will slide US$3 on average.
Prices of 50-inch panels will decline US$5 due to high inventory levels at channels, while quotes for 55-inch models will drop only US$1 due to a rebound of TV sales in the China market. Prices of 65-inch models, however, will dive by US$8 on oversupply.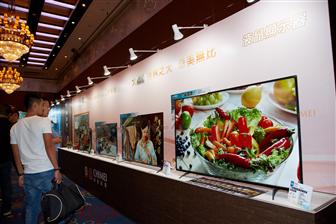 TV panel prices to stabilize in 1Q18.
Photo: Michael Lee, Digitimes, December 2017