Asustek PadFone 2 smartphone/tablet
Photo: Company [Oct 19, 2012]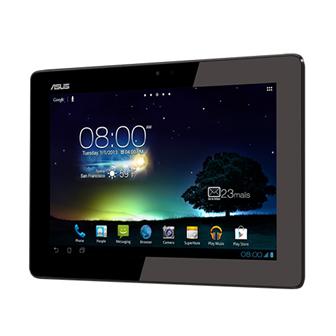 Asustek Computer has announced PadFone 2. Building upon the PadFone combination of an Android smartphone and dockable tablet for mobile flexibility, PadFone 2 consists of a higher specification quad-core, LTE-equipped smartphone and a redesigned tablet.
PadFone 2 is a 4.7-inch Android smartphone with specifications that docks with the PadFone 2 station to become a 10.1-inch tablet. Apps are optimized to support both tablet and phone modes, with transition between smartphone and tablet screen sizes.
The combined weight of both PadFone 2 and PadFone 2 Station is 649g, and the dock mechanism has been redesigned to require just one step to use. PadFone 2 is 9mm at its thickest point.
The PadFone 2 features a 2140mAh battery provides up to 16 hours of 3G talk-time and 13 hours of Wi-Fi web browsing, while PadFone 2 Station's 5000mAh battery gives up to 36 hours of 3G talk-time. PadFone 2 Station's internal battery also has enough capacity to recharge the docked PadFone 2 three times over.
2H 2012 global TFT panel market forecast

Digitimes Research predicts there will be a total of 389 million large-sized TFT LCD panels shipped in 2H12, with 195 million in the third quarter and 194 million in the fourth quarter - with the total representing a 7.6% increase over the first half of this year.

Trends and shipment forecast for 2H 2012 smartphone market

Smartphone shipments in 2010 and 2011 both enjoyed growth of more than 60%. Growth will decelerate in 2012 due to the high base, as well as a slowdown in consumer spending in Western Europe.

Trends in Asia LED chip manufacturing industry

Asia is playing an ever more important role in upstream LED chip manufacturing. The region accounted for 80% of MOCVD demand in 2011 and will account for 90% in 2012, largely because Taiwan, Japan, South Korea and China are the major global centers for LED chip production.