Apple new iMac all-in-one PC
Photo: Company [Nov 2, 2012]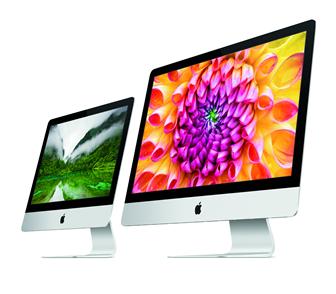 Apple has unveiled a new iMac. The machine features Intel's third-generation quad-core processors, Nvidia graphics and an new storage option called Fusion Drive.
The new iMac comes in an aluminum and glass enclosure with up to 40% less volume than its predecessor and an edge that measures just 5mm thin, Apple said.
The new iMac also features a reengineered display that reduces reflection by 75% while maintaining its color and contrast, according to the vendor. In the new design, the cover glass is fully laminated to the LCD and an anti-reflective coating is applied using a high-precision plasma deposition process. Every iMac display is individually color calibrated using a spectroradiometer.
The new iMac features third-generation quad-core Intel Core i5 processors that can be upgraded to Core i7. The latest Nvidia GeForce graphics processors deliver up to 60% faster performance for advanced gaming and graphics intensive apps, Apple said. Every new iMac now comes standard with 8GB of 1600MHz memory and a 1TB hard drive, and customers can choose to configure their iMac with up to 32GB of memory and a new 3TB hard drive, or 768GB of flash storage.
Fusion Drive is a new storage option that gives customers the performance of flash storage and the capacity of a hard drive. It combines 128GB of flash with a standard 1TB or 3TB hard drive to create a single storage volume that manages files.
2H 2012 global TFT panel market forecast

Digitimes Research predicts there will be a total of 389 million large-sized TFT LCD panels shipped in 2H12, with 195 million in the third quarter and 194 million in the fourth quarter - with the total representing a 7.6% increase over the first half of this year.

Trends and shipment forecast for 2H 2012 smartphone market

Smartphone shipments in 2010 and 2011 both enjoyed growth of more than 60%. Growth will decelerate in 2012 due to the high base, as well as a slowdown in consumer spending in Western Europe.

Trends in Asia LED chip manufacturing industry

Asia is playing an ever more important role in upstream LED chip manufacturing. The region accounted for 80% of MOCVD demand in 2011 and will account for 90% in 2012, largely because Taiwan, Japan, South Korea and China are the major global centers for LED chip production.