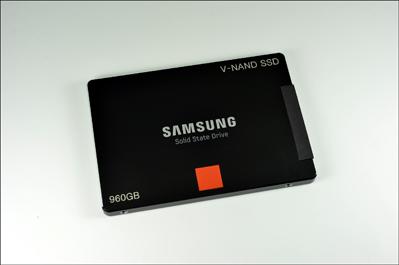 Samsung Electronics has introduced a solid state drive (SSD) based on its 3D V-NAND technology. The new SSD, unveiled during a keynote at the Flash Memory Summit 2013 in California, is designed for use in enterprise servers and data centers.
Samsung's V-NAND SSD comes in 960GB and 480GB versions. The 960GB version offers more than 20% increase in sequential and random write speeds by utilizing 64 dies of MLC 3D V-NAND flash, each offering 128Gb of storage, with a six-gigabit-per-second SATA interface controller. The new V-NAND SSD also offers 35K program erase cycles and is available in a 2.5-inch form factor with x, y and z-heights of 10cm, 7cm and 7mm, which provides server manufacturers with more design flexibility and scalability.
Samsung's 3D V-NAND technology achieves manufacturing productivity improvements over twice that of 20nm-class planar NAND flash, by using cylinder-shaped 3D Charge Trap Flash cell structures and vertical interconnect process technology to link the 24 layers comprising the 3D cell array.