Slim Open Frame Monitor for Retail Multimedia Kiosk
Press release [Monday 5 November 2012]
Multimedia kiosks have been widely used in many public places due to their accessibility and potential to deliver 24/7 service to large numbers of people. Our customer provides mobile phone, on-line and pay-TV services through multimedia kiosks located in many public places, such as retail stores and train stations, to promote its products and services.
Application Requirements
An important aspect of this kiosk enclosure was to promote brand recognition, so the system integrators designed and created a unique ID. The kiosk had to operate 24/7; thus maintenance and durability issues were critical in order to maximize its uptime. Also, the kiosks needed to be placed in different environments: some indoors, some semi- and some fully outdoors. It was crucial the kiosks could be clearly read under strong sunlight conditions as well as operating in a wide range of temperatures. Last but not least, in order to provide better interactivity with customers, a user-friendly touch solution with quick response times was required.
Solutions
Advantech IDS-3115, together with AIMB-252, more than satisfied all the customer's requirements. IDS-3115 uses an industrial grade 15" XGA, 1200-nit LED panel with excellent sunlight readability. Its bezel-less and open-frame architecture allows for customized face plate design and can easily be rear mounted into an enclosure. Its ultra slim and light-weight design optimizes space and makes for efficient system integration. The -20 ~ 60° C wide-range operating temperature is rugged enough to be applied for semi-outdoor and outdoor environments. Finally, a Projected Capacitive Touch solution was applied to bring quick and instant touch response and excellent user feedback experience. IDS-3115 worked perfectly with Advantech's AIMB-252 board, offering a complete ready-to-use, plug and play solution to customers.
Benefits:
- Open frame structure with slim design for easy integration
- 1200-nit LCD panel provides excellent sunlight readability
- Projected Capacitive Touch technology for instant touch response
- -20 ~ 60° C wide range operating temp support for semi-outdoor and outdoor environments
- Integrated bracket for easy installation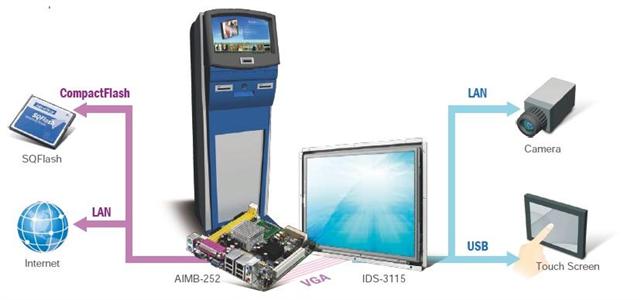 Advantech IDS-3115, together with AIMB-252, more than satisfied all the customer's requirements