Blood Lab Information System Increases Hospital Efficiency
Press release [Tuesday 27 November 2012]
The Mennonite Christian Hospital in Hualien, Taiwan was founded by missionaries in 1954. It has 539 beds, 990 employees, and offers a full-range of services to the community. The hospital is bordered by the Pacific on one side and mountains on the other, and its reputation spans the entire east coast. It is a premier healthcare provider for Taiwan's eastern communities with patients coming from the city, from far away villages, and from other more distant cities in the region.
The reason for this is due in part to the hospital's core ethics: it values community and providing caring service more than profit and turnover rates. People often travel a great distance to get to the hospital and cannot return for a second visit. So, the hospital goes out of its way to serve those patients on the spot in a single visit. For the hospital, efficiency and quality are key concerns, and medical personnel were looking for a way to improve response while enhancing accuracy for patients in the hospital's blood laboratories.
Solution
A software integrator has developed an intuitive, touch-based laboratory information system for the blood lab that works flawlessly with Advantech's HIT-W151 healthcare terminal. Five of the touch-based systems have been installed in the lab. They are equipped with barcode scanner, IC card reader and camera. A staff member can access the system after positive identification is confirmed with a swipe of an ID card. The patient uses a check-in slip issued by the doctor which is scanned with the barcode reader. This gives lab personnel access to the patient's record, blood work ordered, doctor's instructions, and other vital data. HIT-W151 was chosen because it offers an all-in-one solution; it has a slim profile with cable management system that minimizes its space on the desk; and the touchscreen and software application are easy for lab technicians to use. What's more, HIT-W151 is UL60601-1/EN60601-1 and IP65-certified; it is easy to clean, dust and water-resistant, and conforms to medical standards.
System
HIT-W151 is a fanless all-in-one system powered by an IntelR Atom D510 processor that uses low-power while delivering high performance. The full-flat 15.6" touchscreen offers a 16:9 natural viewing area. HIT-W151 was attached to a desktop stand at the Mennonite Christian Hospital using standard VESA mounts; both 75x75mm and 100x100mm are available. The cables, conveniently tucked away, kept the desktops clean, and connected the systems via Ethernet to the hospital's LAN network & HIS system. Options available for HIT-W151 include an RFID reader, a Smart card reader, a barcode scanner, camera, and magnetic stripe reader. The system is used to access patient information, blood testing data, and also has access to the queuing system at the lab's entrance to keep track of patients in the hospital waiting area.
The hospital is happy with HIT-W151 in their blood lab. In the near future they will begin using the integrated camera to create a video record of patient/staff interactions to assist in dispute resolution or insurance claim requests. In addition, the hospital is looking at other Advantech digital healthcare solutions for the future, including computerized mobile nursing carts and digital signage systems.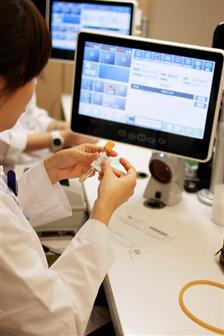 A software integrator has developed an intuitive, touch-based laboratory information system for the blood lab that works flawlessly with Advantech's HIT-W151 healthcare terminal