EverFocus showcasing integration at Secutech 2014
Press release [Tuesday 11 March 2014]
Everfocus is going to highlight their latest developments at secutech Taipei 2014 booth 6117, where the company will showcase their new Panoramic IP Camera EFN3320, 10X Auto Focus IP Cameras as well as NVRs, HD-SDI products, Mobile Solutions, and most of all, the whole new XMS and its integration!
EFN3320 camera is EverFocus' latest 3 megapixel panoramic IP camera. Based on an innovative technology, EFN3320 uses a fisheye lens to create a 360-degree view with an extremely large area of coverage. With proper placement, EFN3320 IP camera can replace two or more conventional fixed cameras for seamless coverage of an entire scene with no gaps or blind spots.
The XMS is a high performance management system that enables you to connect, work, and control all the surveillance products easily including cameras, portable devices, and also connect with ATMs, POS machine, LPR systems, access control, and alarm.
EZN3261 bullet and EHN3261 dome IP cameras provide up to 30 fps at 1920 x 1080 viewing resolution. Both two types of models equipped with an auto focus 10x optical zoom lens which provides the desired field of view with superior video quality in precision focus. EZN and EHN series come with 2 megapixel and 3 megapixel. Both types will be showcased during secutech from 3/19-3/21.
Mobile has always been Everfocus' strength. EverFocus EMN series mini mobile IP dome comes with three models, 1.3 MP, 2 MP, and 3 MP, providing up to 15 fps at 2048 x 1536 viewing resolution. With full EN50155 compliance, IK10 vandal proof housing and IP67-rated design, the camera can withstand shock, vibration, humidity, dust, and fluctuations, maintaining stable and reliable video during vehicle movement.
The zero latency HD quality image is another highlight of EverFocus versatile and high performing HD-SDI solutions! HD-SDI solutions allow users to monitor true "real time" HD recording images. Please visit EverFocus Booth 6117, for more details.
About EverFocus Electronics Corporation
EverFocus Electronics Corporation (TWSE: 5484) is a leading integrated security solution manufacturer. Our lineup includes IP, HD-SDI, analog, mobile surveillance solutions, access control systems, as well as surveillance and access control peripherals. EverFocus has offices globally, located in Taiwan, the U.S.A, Germany, China, Japan, and India. For more information, please visit http://www.everfocus.com.tw/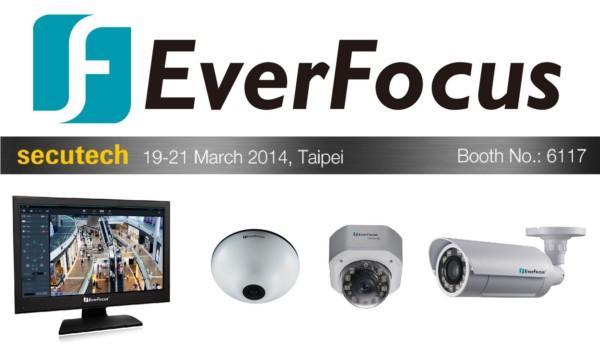 EverFocus showcasing integration at Secutech 2014