EverFocus' great leap forward: eZ Hopper
Press release [Thursday 10 July 2014]
EverFocus recently introduces an innovative function, eZ Hopper, for our new series of DVRs/NVRs, allowing users to control up to 16 connected DVRs/NVRs in the same LAN network with just one single mouse.
This breakthrough feature will bring great benefits to the traditional small and medium-sized surveillance system. For traditional DVR/NVR users who want to expand the surveillance system, a costly Central Monitoring Software (CMS) and the time-consuming training can be a great burden. However, adopting the CMS solution is no longer the only way to scale up, EverFocus' newly developed function, eZ Hopper, is now to help you to solve this problem.
The eZ Hopper is designed and developed upon the current DVR/NVR codebase, so there is no need for users to learn any other complex configurations to manage the whole surveillance system or to spend the great setup cost and time. You just need to set up one DVR or NVR to be the Main Server, and the rest to be the Sub Servers. Then, simply connect a mouse to the Main Server, and you will be able to move its cursor across all the connected monitors of the Main and Sub Servers and to control their OSD menus respectively.
If the customers are EverFocus current existing DVR/NVR users, they can simply upgrade to the new firmware to enjoy this powerful and flexible function. For the customers who would like to have a traditional small and medium-size surveillance system but withdraw from using the CMS because of the considerable expanse and complicated operations, EverFocus' DVR/NVR coupled with the eZ Hopper function will definitely be more applicable and much appealing.
About EverFocus Electronics Corporation
EverFocus Electronics Corporation (TWSE: 5484) is a leading integrated security solution manufacturer. Our lineup includes IP, HD-SDI, analog, mobile surveillance solutions, access control systems, as well as surveillance and access control peripherals. EverFocus has offices globally, located in Taiwan, the U.S.A, Germany, China, Japan, and India. For more information, please visit http://www.everfocus.com.tw/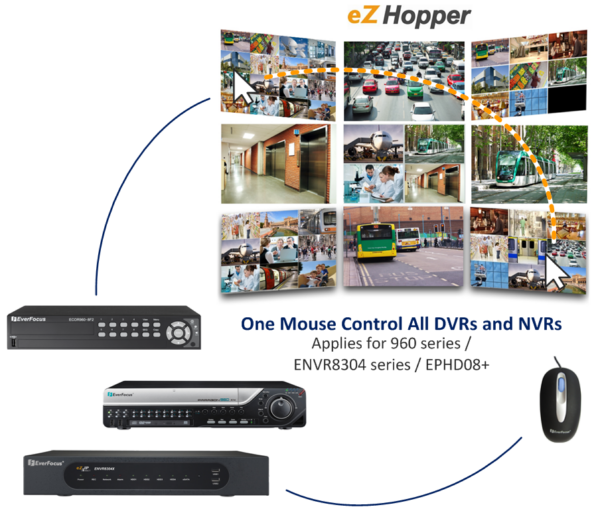 eZ Hopper allows one mouse to control 16 DVR/NVRs