97 news items tagged STMicroelectronics
After securing orders from STMicroelectronics, Globalfoundries' 22nm FD-SOI (22FDX) process is being evaluated by hundreds of potential customers looking to use a more advanced fully-depleted...

With the global PC market entering the traditional slow season and demand from China's automotive electronics market turning weak, medium- to high-power MOSFET chips have seen shipment...

Taiwan lead frame maker SDI plans to expand its production capacity by 15% in the first half of 2018 to meet increasing application of lead frame-based QNF (quad flat no-lead) packaging...

Globalfoundries and STMicroelectronics have announced that ST has selected GF's 22nm FD-SOI (22FDX) technology platform to support its next-generation of processor solutions for industrial...

STMicroelectronics has announced its acquisition of software-development tools specialist Atollic. Atollic is the supplier of TrueStudio, an integrated development environment (IDE)...

With global shipments of electric cars seen to grow sharply in 2018, the supply of vital components, particularly high-voltage MOSFET (metal-oxide-semiconductor field-effect transistor)...

Teardown engineers at IHS Markit have completed their preliminary physical dissection of the new Apple iPhone X and found that the model A1865 version of the smartphone with 64GB...

Major MOSFET suppliers have extended delivery lead times to 13-18 weeks from 8-12 weeks as the supply of MOSFET chips has become tighter on rising demand for electric cars, according...

Taiwan-based Shuen Der Industry (SDI), a supplier of semiconductor leadframes, has resumed production at a China factory which was ordered to suspend and remediate polluted water.

STMicroelectronics has dismissed recent reports indicating the company will suspend taking orders for microcontrollers (MCU) until 2018 due to strong demand. "ST continues to manage...

STMicroelectronics has extended delivery lead times for 32-bit MCUs due to strong demand, according to industry sources. The MCU vendor has also informed its customers that it plans...

CMOS image sensor sales are on pace to reach a seventh straight record high in 2017, and nothing ahead should stop this semiconductor product category from breaking more annual records...

The growing level of automobile digitalization, especially advances in IoV technologies, is introducing booming opportunities for automotive electronic devices and parts and this...

Advanced Micro-Fabrication Equipment (AMEC) aims to grow its revenues to CNY2 billion (US$290.4 million) in 2020, and is striving to be among the world's top-5 semiconductor equipment...

STMicroelectronics has adopted Macronix International's flash memory solution in its new STM32L4 microcontroller (MCU) series, according to the Taiwan-based provider of non-volatile...

Apple's chip suppliers will begin to stock solutions for the upcoming iPhone models in the second quarter, and will step up their pace of inventory building between the end of the...

Eleven companies are forecast to have semiconductor capex budgets greater than US$1 billion in 2017, and account for 78% of total worldwide semiconductor industry capital spending...

Overall revenues for the power semiconductors market globally dropped slightly in 2015, due primarily to macroeconomic factors and application-specific issues, according to IHS Mar...

Synopsys has announced that STMicroelectronics is deploying Custom Compiler for custom design, initially starting with 28nm FD-SOI IP development. After an extensive evaluation and...

While Robert Bosch is expected to continue to lead rival STMicroelectronics in sales of MEMS devices for the third consecutive year in 2015, the two companies have both accelerated...

Universal Stylus Initiative (USI) started by Intel is planning to announce the official standard for its stylus that can be used across platforms, and many component suppliers have...

STMicroelectronics has shipped over 8.5 billion MEMS chips and expects applications for MEMS chips in the wearable device, fitness/health monitoring and Internet of Things (IoT) sectors...

Genesys Logic, Inc., a leading IC design company in mixed-signal, high-speed I/O technologies, today announced a reference design pairing its USB 3.0 card reader controller GL3221...

The global market for MEMS microphone chips is split into dual segments that are dominated by two suppliers: Knowles and Infineon Technologies AG, according to IHS.

The market for IoT (Internet of Things) devices is expected to stage a major uptick in the next 2-3 years. STMicroelectronics is ready to offer an assortment of key components such...
Related photos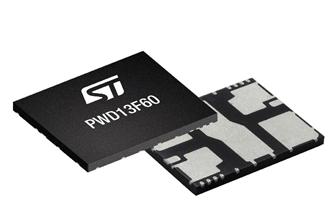 ST PWD13F60
Photo: Company, Tuesday 5 December 2017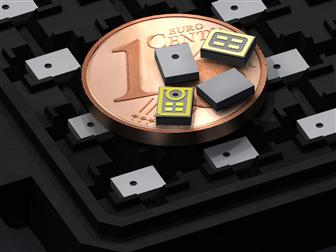 STMicroelectronics MEMS microphone
Photo: Company, Wednesday 9 December 2009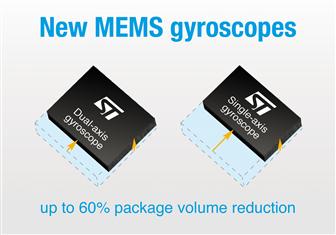 STMicroelectronics single-axis and two-axis MEMS gyroscopes
Photo: Company, Wednesday 11 November 2009
Related news around the web