Epson's new 0.96-inch high-temperature polysilicon (HTPS) TFT panel
Photo: Company
Wednesday 26 March 2008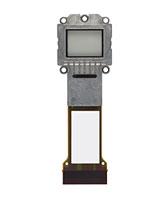 Seiko Epson has begun volume production of 0.96-inch high-temperature polysilicon (HTPS) TFT panels for 3LCD front projectors compatible with SXGA+.
The new panels use the latest D7 design rule process to achieve higher aperture ratios, allowing them to offer SXGA+ resolution as well as increased brightness.
The panels also make use of high light-resistant liquid crystal material to ensure the greater light resistance also needed to increase brightness, highlighted the company.