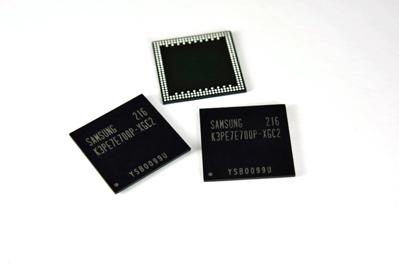 Samsung Electronics has begun producing the industry's first 4Gb, low power double-data-rate 2 (LPDDR2) memory using 20nm-class technology.
Samsung's 20nm-class 4Gb mobile DRAM enables ultra-slim mobile designs, as well as next-generation systems for both mobile manufacturers and enterprise solution providers.
Based on the 4Gb components, Samsung can deliver 2GB solutions that boast a thickness of 0.8mm, which stack four 4Gb LPDDR2 chips in a single LPDDR2 package. This new package is approximately 20% thinner than 2GB packages that stack four 30nm-class 4Gb LPDDR2 chips.
Also, the new 2GB package can process data at up to 1,066Mbps, while spending the same amount of power as that of a previous 30nm-class 2GB package. Benefits of the new 20nm-class 4Gb LPDDR2 will help speed up the growth of the 4Gb DRAM market.