EZ10 driverless electric bus
Photo: Michael Lee, DIGITIMES
Thursday 13 July 2017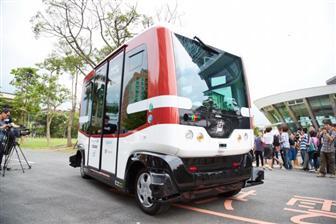 EZ10, the first autonomous-driving electric shuttle bus introduced to the Taiwan market, has begun a trial run at the campus of National Taiwan University in Taipei, according to 7StarLake, a Taiwan-based partner of France-based EasyMile, EZ10's marketing agent.
Produced by France-based Ligier, EZ10 measures 4m (length) by 2m (width) by 2.75m (height) and is powered by lithium LiFePO4 battery, 7StarLake said. Designed for short-distance running to bridge the last mile of trips, EZ10 has six seats and can hold six more standing passengers. The battery enables EZ10 to run for 10 hours at an average speed of 20-25km/hour.
Featuring Level 4 autonomous driving, EZ10 is equipped with eight LiDAR sensors, two cameras as well as inertia navigation devices and GPS for sensor fusion. The Level 4 autonomous driving is based on AI (artificial intelligence) analysis and computing of surrounding parameters detected by sensors.