Toshiba 1.12-micrometer-pixel CIS
Photo: Company
Wednesday 13 July 2011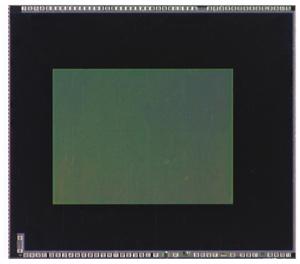 Toshiba has announced a new 1.12-micrometer-pixel CMOS image sensor (CIS), the latest addition to its CIS lineup. Sampling of the new sensor will begin in end-July followed by mass production at the end of 2011.
Toshiba said it has made full use of the advantages of back-side illumination technology (BSI) to realize image pixels with a pitch of 1.12 micrometers, and to pack 8.08 million of them into a 1/4-inch sensor.
Toshiba expects BSI CISs to become the mainstream technology in portable digital technology, with applications expanding from mobile phones and digital cameras to smartphones and tablets.
CISs are a focus product of Toshiba's Analog and Imaging Systems business, according to the company.