OLED lighting for car roof
Photo: Company
Monday 30 January 2012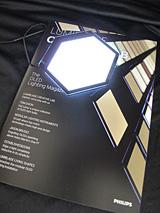 BASF and Philips have claimed a practical breakthrough in the development of OLE) technology that allows it to be integrated in car roofs. The OLEDs are transparent when switched off, allowing for a clear view outside the vehicle, yet providing light only within the vehicle when switched on.
This OLED lighting concept for car roofs is the result of a longstanding cooperation between BASF and Philips in the research and development of OLED modules.
In addition to offering completely new design possibilities, the transparent OLED lighting concept also allows new approaches to automotive engineering, the companies said. The transparent OLED sandwich structure can be combined with equally transparent solar cells.