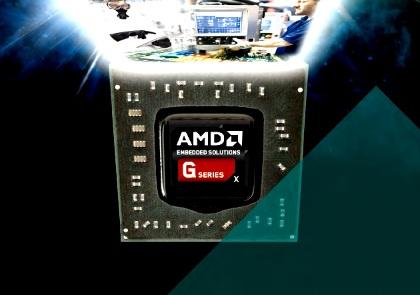 AMD has announced a new low-power accelerated processing unit (APU) in the AMD G-series with the GX-210JA, further reducing x86 power requirements for embedded designs. The new GX-210JA APU, a full system-on-chip (SoC) design, uses one-third less energy than the previous low-power embedded G-series SoC product while providing graphics capabilities, the company claimed.
At 6W maximum thermal design power (TDP), and approximately 3W expected average power, this new member of the G-series SoC family will enable additional fanless designs for a variety of applications ranging from industrial controls and automation, digital gaming, communications infrastructure and visual embedded products including thin client, digital signage and medical imaging, AMD said.
The AMD embedded G-series SoC processor family also features enterprise-class error-correction code (ECC) memory support, discrete-class AMD Radeon GPU and integrated I/O controller.
The AMD embedded G-series SoC platform, including the GX-210JA, is currently shipping. AMD supports an ecosystem of embedded solution providers supporting and/or announcing market-ready products powered by the AMD embedded G-series SOC.