Altatech AltaSight SL300 inspection system
Photo: Company
Tuesday 29 June 2010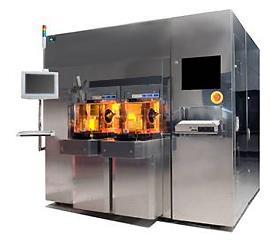 Altatech Semiconductor has announced silicon wafer maker Siltronic is evaluating its AltaSight SL300 inspection system to verify the tool's capabilities for use in wafer manufacturing.
Altatech said the 300mm system's combined capabilities in reflectivity, topographical and dark-field inspection as well as its 100-wafers-per-hour throughput and reliability in a cleanroom environment are being tested at Siltronic's facility in Burghausen, Germany.
The AltaSight series' system architecture incorporates several different inspection technologies, which are used in combination to precisely identify, locate and classify a wide range of defects on semiconductor wafers. The system can detect slip lines inside a wafer's crystalline structure with a vertical sensitivity of 2nm as well as perform front-side, back-side and edge inspection in one pass, according to the company.