Lextar to debut latest plug-in COB
Photo: Company
Tuesday 4 June 2013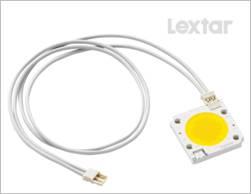 Taiwan-based LED firm Lextar has announced its latest plug-in COB, Core series. Lextar will formally unveil the new product from June 9-12 at the 2013 Guangzhou International Lighting Exhibition.
The Core series is optical mechanical integrated and delivers high lumen output, Lextar said. Its plug-and-play connector brings additional savings to customers from reduced costs of luminaires, since conventional soldering process was replaced with mechanically designed connector that allows Core to be connected in series.
Core series is also applicable to omni-directional bulbs when equipped with designated lens for wider beam angle. As high as 1,500 lumen can be delivered within less than 1cm diameter, giving an unrivaled lumen per area of over 60% advancement. The product has an efficiency of 125 lm/W. Lextar expects Core series to be mass produced in the second quarter of this year.