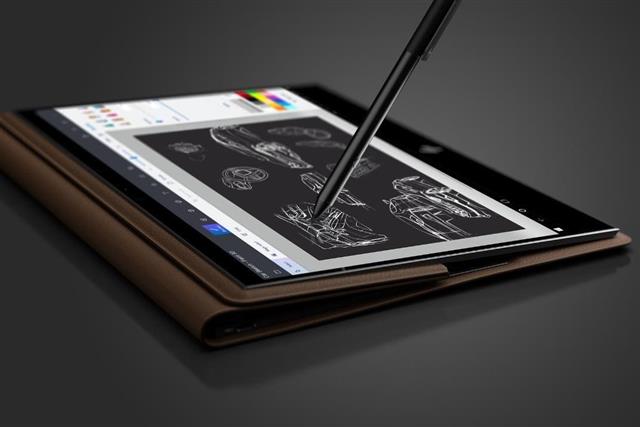 The Spectre Folio builds on the success of traditional laptops, 2-in-1 devices and convertibles, which are designed primarily for specific productivity tasks or scenarios. The result is in a PC that converts between three distinct positions. The Spectre Folio is made with chromed tan, full-grain leather, and it is a durable material that provides a natural hinge and flexible chassis.
With one hand, the thin and light device moves from a traditional laptop position typically used for productivity, to tent position that tucks away the keyboard for sturdier support on the lap, to tablet position with a built-in tilt for intuitive inking - all made possible by strategically placed magnets and the unique flexibility of leather to act as a natural hinge, according to HP.
The Spectre Folio incorporates one of the smallest motherboards in the industry, capitalizing on 8th Gen Intel Core i5 and i7 (Y-series) processors, the vendor said. HP said it also worked closely with the Bang & Olufsen to tune the four front facing speakers.
Other features include up to 16GB of memory, up to 2TB of SSD storage, and either a 300-nits FHD display or a low-power, 1W 400-nits FHD option for ideal viewing in any lighting condition. A 4K UHD display panel option will be available later this year.