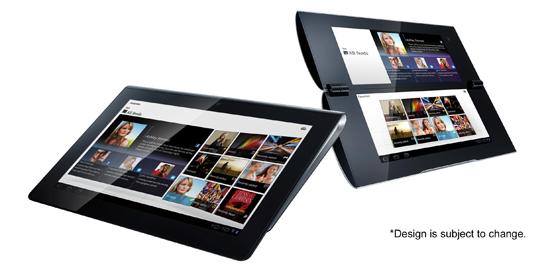 Sony has announced its Sony Tablet series: the S1, which is optimized for media entertainment; and the S2, which is meant for mobile communication and entertainment. Sony Tablet will be available in the global market starting in fall 2011.
Sony Tablet is equipped with the latest Android 3.0, which is designed for devices with larger screen sizes, particularly tablets. Both models are Wi-Fi and WAN (3G/4G) compatible and users can not only browse the Internet or check e-mail but they can also access digital content including videos, games and books through Sony's premium network services.
The S1 has a 9.4-inch display. Its off-center of gravity design realizes stability and ease of grip as well as a sense of stability and lightness, offering comfortable use for hours, Sony said.
The S2 has two 5.5-inch displays that can be folded for easy portability, the vendor highlighted. Its dual screen presentation allows its displays to be combined and used as a large screen or for different functions such as playing video on one screen while showing control buttons on the other.