Micron RealSSD P400e
Photo: Company
Wednesday 21 September 2011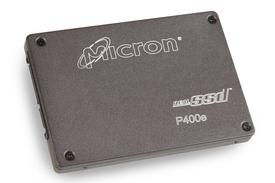 Micron Technology has introduced a new solid-state drive (SSD), designed for read caching, direct attached storage (DAS) and booting virtual desktop infrastructures - key applications for servers and blade designs.
With the addition of the new RealSSD P400e, Micron's enterprise SSD portfolio now covers the entire enterprise storage spectrum from boot applications (RealSSD P400e) to data storage (RealSSD P300) and caching applications (RealSSD P320h), the vendor said.
The P400e SSD ships in capacities ranging from 50GB to 400GB in a standard 2.5-inch, 7-millimeter Z-height form factor for thin server blade designs. The drive's SATA 6Gb/s interface is backward compatible to SATA 3Gb/s, allowing customers to use the drive with today's infrastructure while also future-proofing their systems to leverage the faster interface.