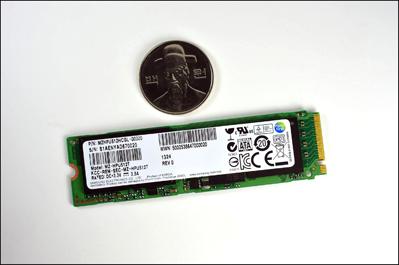 Samsung Electronics has started to mass produce PCI-Express (PCIe) solid state drives (SSD) for ultra-slim notebooks.
The new Samsung SSDs are shipped to major notebook makers starting the second quarter of 2013. The series is available in capacities of 512GB, 256GB and 128GB.
The new Samsung XP941 delivers a level of performance that surpasses the speed limit of a SATA 6Gb/s interface, according to the vendor. Samsung XP941 enables a sequential read performance of 1,400MB/s. This allows the drive to read 500GB of data or 100 HD movies as large as 5GB in six minutes, or 10 HD movies at 5GB in 36 seconds.
The XP941 comes in the new M.2 form factor (80x22mm), weighing approximately six grams íV about a ninth of the 54 grams of a SATA-based 2.5 inch SSD. Also, the XP941's volume is about a seventh of that of a 2.5 inch SSD, freeing up more space for the notebook's battery.
In addition, Samsung indicated that the company will continue to expand production capacity for 10nm-class NAND flash chips to help maintain its lead in PCIe SSDs for ultra-slim PCs and notebooks.