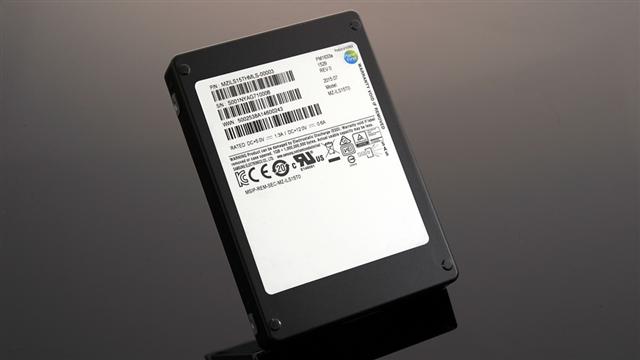 Samsung Electronics has announced the PM1633a, a 15.36 terabyte (TB) drive.
First revealed at the 2015 Flash Memory Summit in August, the 15.36TB SSD is based on a 12Gb/s Serial Attached SCSI (SAS) interface, for use in enterprise storage systems. Because the PM1633a comes in a 2.5-inch form factor, enterprise storage managers can fit twice as many of the drives in a standard 19-inch, 2U rack, compared to an equivalent 3.5-inch storage drive.
The 15.36TB of data storage on a single SSD is enabled by combining 512 of Samsung's 256Gb V-NAND memory chips. The 256Gb dies are stacked in 16 layers to form a single 512GB package, with a total of 32 NAND flash packages in the 15.36TB drive. Utilizing Samsung's 3rd generation, 256Gb V-NAND technology which stacks cell-arrays in 48 layers, the PM1633a line-up provides significant performance and reliability upgrades from its predecessor, the PM1633, which used Samsung's 2nd generation, 32-layer, 128Gb V-NAND memory.
The PM1633a SSD sports random read and write speeds of up to 200,000 and 32,000 IOPS respectively, and delivers sequential read and write speeds of up to 1,200MB/s.
Starting with the 15.36TB density, Samsung will provide a wide range of capacity options in its PM1633a SSD line-up - 7.68TB, 3.84TB, 1.92TB, 960GB and 480GB later this year.