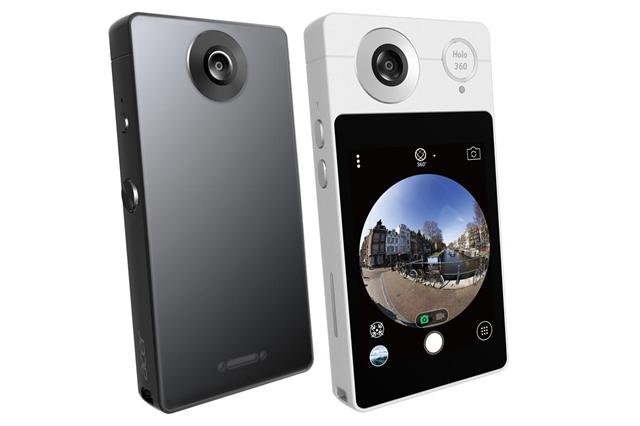 Acer is showcasing at IFA 2017 two LTE-connected 360-degree cameras: the Holo360 all-in-one camera that allows users to capture, view, edit and share with just one device, and the Vision360 cloud-connected in-car camera.
The Acer Holo360 is powered by the Qualcomm Connected Camera Platform with a Qualcomm Snapdragon 625 mobile processor. Combining the power to stitch videos in real-time, integrated LTE connectivity, and a 3-inch touchscreen for operation, the Acer Holo360 provides an all-in-one solution to livestream 360-degree videos. Panomorph optics certified by ImmerVision capture high-resolution images across the field of view without distortion, allowing the Holo360 to deliver high-quality photos in 6.9K resolution and videos in 4K, according to Acer.
The Holo360 runs on Android 7.1, which allows users to share 360-degree photos and videos directly to social networks, and also preview videos directly on the device without the need to pair and sync with a smartphone or PC.
With two ultra-high quality cameras working together to provide 360-degree coverage, the Acer Vision360 makes sure that every angle around the user's car is completely recorded in 4K video, according to the vendor. When an object collides with the vehicle when it is in motion, the device will trigger a recording that includes GPS coordinates of where the incident occurred, which is not only saved in a secure area on the device's internal storage, but also uploaded to the cloud for evidence preservation. For safety, the Vision360 is mounted on the windshield, aligned with the driver's eyes and also displays the vehicle's current speed.