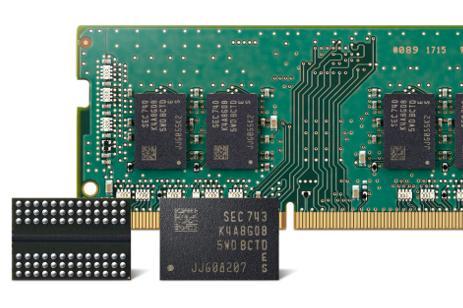 Samsung Electronics has begun mass producing the second generation of 10nm-class (1y-nm), 8Gb DDR4 DRAM. For use in a wide range of next-generation computing systems, the new 8Gb DDR4 features the highest performance and energy efficiency for an 8Gb DRAM chip, as well as the smallest dimensions, Samsung said.
Samsung's 2nd-generation 10nm-class 8Gb DDR4 features an approximate 30% productivity gain over the company's 1st-generation 10nm-class 8Gb DDR4. In addition, the new 8Gb DDR4's performance levels and energy efficiency have been improved about 10% and 15% respectively, thanks to the use of an advanced, proprietary circuit design technology. The new 8Gb DDR4 can operate at 3,600Mbps per pin, compared to 3,200Mbps of the company's 1x-nm 8Gb DDR4.
To enable these achievements, Samsung has applied new technologies, without the use of an EUV process. The innovation here includes use of a high-sensitivity cell data sensing system and a progressive "air spacer" scheme. In the cells of Samsung's 2nd-generation 10nm-class DRAM, a newly devised data sensing system enables a more accurate determination of the data stored in each cell, which leads to a significant increase in the level of circuit integration and manufacturing productivity.
Samsung has finished validating its 2nd-generation 10nm-class DDR4 modules with CPU manufacturers, and next plans to work closely with its global IT customers in the development of more efficient next-generation computing systems.