Fujitsu has announced the development of the company's new MHW2 BJ series 7,200-rpm 2.5-inch hard disk drives (HDDs) targeted primarily at high-performance notebook PCs. The drives are based on the SATA 3.0 Gb/s interface and utilize perpendicular magnetic recording technology to reach storage capacities of up to 160GB.
In the 2.5-inch HDD drive market, the MHW2 BJ series' spindle speed (7,200-rpm), data transmission speed (up to 300MB/s) and capacity (up to 160GB), put the drives among the top in the industry, and help bring the performance of these notebook PC HDDs on par with those used in some desktops. The series also features acoustic noise levels of 2.5 bels at idle, and power consumption is rated at 2.3 watts or less when reading or writing data, according to Fujitsu.
The MHW2 BJ series will be available on a global basis at the end of May, 2007 and Fujitsu has set sales targets of 1.6 million units for 2007.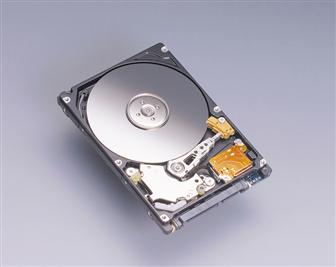 Fujitsu 2.5-inch 7,200 RPM HDDs for high-performance notebooks
Photo: Company