Sony announces NEX-6 camera; claims DSLR experience in pocket-sized package
Press release, September 12; Joseph Tsai, DIGITIMES
With a brand new, sleek design and enhanced control capabilities, the new Sony NEX-6 camera packs all the imaging power, shooting responsiveness, handling and operability of a DSLR into a pocket-sized mirrorless camera, according to the company.
The newest addition to Sony's E-mount camera lineup includes Fast Hybrid AF, Wi-Fi capabilities and the Play Memories Camera Apps platform recently introduced on Sony's new NEX-5R model, as well as the same high-resolution XGA OLED Tru-Finder viewfinder found on the flagship NEX-7 model. Additionally, the NEX-6 adds a standard DSLR-style mode dial for fast, simple navigation between settings.
The camera's large Exmor APS HD CMOS sensor offers 16.1 effective megapixels. It is teamed with a Bionz image processor that ensures flawless, low-noise images at extended sensitivity settings up to ISO 25600, Sony claimed.
The Fast Hybrid AF system combines phase- and contrast-detect AF methods. It uses 99 phase-detection AF points arrayed on the image sensor to detect a subject's distance and direction to quickly lock focus on it, and then utilizes contrast-detection AF to confirm extremely fine focus detail. In Speed Priority Continuous shooting mode, the camera automatically switches to phase detection tracking AF to track fast-moving action accurately in each frame at up to 10 frames per second, the company highlighted.
As with the flagship NEX-7 camera, the NEX-6 model features an XGA OLED Tru-Finder EVF for precision framing and focusing. This 2.36 million dot electronic viewfinder gives a bright, detail-packed, high contrast view of still images and video, with 100% frame coverage and a wide field of view. On-screen grid lines and a digital level gauge can be displayed to assist with accurate framing.
The OLED Tru-Finder EVF is complemented by a 3.0-inch Xtra Fine LCD display that can be angled up to 90-degrees up or 45-degrees down for easy viewing in virtually any shooting position, Sony said. The LCD screen ensures detail and contrast with significantly reduced on-screen reflections, aiding composition when shooting outdoors or in direct light.
Shared with the NEX-5R model, integrated Wi-Fi on the NEX-6 camera allows photos to be transferred wirelessly to a smartphone or tablet running Sony's free PlayMemories Mobile app, available on both Android and Apple iOS platforms. Additionally, content can be directly uploaded from the camera to Facebook using a Wi-Fi connection and the new Direct Upload application, part of Sony's new PlayMemories Camera Apps platform.
The service can be accessed over Wi-Fi or when the camera is connected directly to a PC via USB.
Sony has also introduced three new lenses for its E-mount line of interchangeable lens cameras, adding to the system's flexibility.
The new SELP1650 lens is an extremely light, compact 16-50mm F3.5-5.6 powered zoom model that measures only 29.9mm thick (when fully retracted) and contains built-in Optical SteadyShot image stabilization for clearer handheld images.
Additionally, it features a dual-function ring that controls both power zoom and manual focus, depending on the camera's focus mode. With the camera set to AF the control ring adjusts smooth, high-speed zoom with small hand movements. With the camera in MF mode, the ring controls manual focus. A smooth power zoom dial makes the lens particularly useful for shooting video.
The new SEL35F18 lens is a wide aperture 35mm focal length model with a bright maximum aperture of f/1.8 and built-in Optical SteadyShot image stabilization. It offers excellent optical sharpness, clarity, and background defocus in both still images and HD video, and is exceptionally light and easy to carry.
The new SEL1018 lens is a super-wide angle zoom with a maximum aperture of f/4.0 across its range of 10-18mm and built-in Optical SteadyShot image stabilization. Adopting the super Extra-low Dispersion (ED) glass which reduces color aberration, the lens is capable of producing dramatic perspective effects and is ideal for shooting landscapes and interiors.
The NEX-6 compact system camera will be available November 2012 in a kit with the SELP1650 power zoom lens for about US$1,000. It will also be offered as body-only for about US$850.
The SELP1650 power zoom lens will be sold separately in January 2013 for about US$350, and the SEL35F18 prime and SEL1018 wide angle lenses will be available November 2012 for about US$450 and US$850, respectively.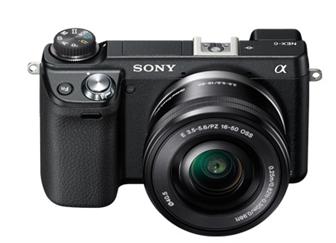 Sony NEX-6 camera
Photo: Company