Twinkle 65: FSP claims smallest, lightest 65W notebook adapter
Press release
FSP has released a new universal notebook adapter, the Twinkle 65, the world's smallest and lightest 65W notebook adapter so far. The idea is to bring to the market an easy-to-use and convenient product for notebook users.
The world's smallest and lightest 65W adapter
People who have to carry heavy briefcases commuting to and from work may wonder how they could reduce their daily burden. The Twinkle 65 is the answer. Lightweight, compactness, and portability have become the priorities that modern-day travelers think about before leaving for a business trip. The volume and weight of the Twinkle 65 is a half of any other notebook adapters. Weighing only 100g, it is lighter, smaller and more efficient.
Twinkle 65 meant to be taken anywhere in the world
The Twinkle 65 notebook adapter, designed by FSP with cutting-edge technology, is light and easy to carry for any user. It includes exchangeable plugs, making it compatible with sockets in 157 countries. It means notebooks users will not have to buy extra power plugs if they travel with Twinkle 65. There are also eight tips for 99.9% of major notebook brands; users don't need to buy another tip for new notebooks. Furthermore, a travel pouch comes with the adapter for scratch-proof storage.
High efficiency up to 91%
Twinkle 65 has a 91% power conversion rate that vastly reduces power loss and waste heat to save energy and protect the environment. FSP's state-of-the-art technology makes Twinkle 65 compatible with all the major notebook brands.
FSP's products have passed safety certifications in many different countries. Twinkle 65 offers a three-year warranty.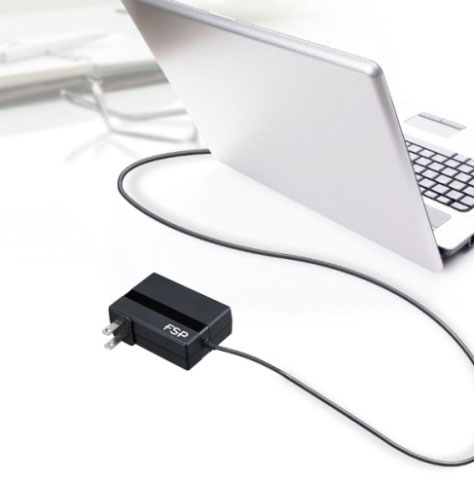 FSP's Twinkle 65 notebook adapter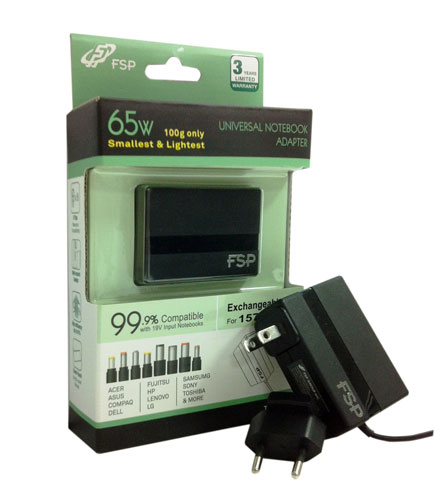 The packaging for Twinkle 65
Specifications:
- Output Wattage/ Voltage/ Current: 65W/ 19V/ 3.42A
- Input Voltage: 100-240V
- Input Frequency: 50-60Hz
- No. of Tips: 8
- Protections: OCP, OVP, SCP, OTP
- Dimension (LxWxH): 71x49x24 mm
- Warranty: 3 Years
About FSP
Founded in 1993, FSP is one of the largest manufacturers of power supplies in the world. As a leading manufacturer with more than 20 years of experience in designing products, FSP has over 300 products that are 80PLUS certified. FSP has a strong commitment to quality, service and the environment. FSP is listed on Taiwan Stock Exchange under ticker 3015. To find out more about the FSP Group, please visit http://www.fsplifestyle.com/