Smartization has become a key development strategy across all types of businesses. However, as different industries operate on different systems and in different environments, the design of smart systems has to incorporate a certain degree of customization to be able to accommodate business needs. For this reason, system developers must have a deep understanding of the industry. The Research Center for Information Technology Innovation of National Taiwan University of Science and Technology (NTUST), led by Kai-Lung Hua, a professor of the university's Department of Computer Science and Information Engineering, has always maintained a close connection with Taiwan's high-tech industry. After the participation in the Taiwan Tech Global Research & Industry Alliance (Taiwan Tech GLORIA) project in 2018, the center has engaged in collaborations with Intel through assistance from the project, wherein Intel provides artificial intelligence (AI) tools, businesses raise issues that they want to resolve and students come up with a solution. Such collaborations help students strengthen real-world skills and businesses develop a talented workforce.
According to Hua, leveraging AI, computer vision, AR/VR, IoT and other innovative technologies, the center designs smart systems for use by enterprises that address their pain points. Backed by the university, the center has actively engaged in collaborations with Taiwan's industries since its establishment and has successfully helped firms in different fields develop solutions. For example, amid the recent smart manufacturing trend, the NTUST team designed a production equipment prognostics system for global leading electronics manufacturer Inventec to incorporate into its server production line. By putting sensors in the production equipment and connecting them to a network to keep track of equipment operation conditions, the system can estimate time-to-failure based on big data analytics so that engineers can conduct maintenance during scheduled production shutdown, thereby minimizing the chance of unexpected breakdown and maximizing equipment availability.
In another smart manufacturing scenario, the NTUST team worked with a high-tech firm and designed a system to identify factory worker actions from images captured on video cameras. The data is then compiled and provided to factory managers for them to monitor if the workers are following standard operating procedures set by the firm to boost yield and ensure labor safety.
Aside from smart manufacturing, the computer vision and big data analytics technologies developed by Hua's team have also been used in automotive electronics, gaming and e-commerce. For automotive application, the team's sensor solution combining temperature detection and millimeter wave communication is used in an advanced driver-assistance system (ADAS), allowing it to quickly identify pedestrians, vehicles and objects on the road.
For gaming and e-commerce, the team makes use of big data analytics and AI to help firms discover the ideal business strategy. For example, by analyzing the time it takes gamers to advance from one level to the next and social media posts, game developers can set the game difficulty level and treasure prices to thereby optimize gaming experience and increase gamer stickiness. For e-commerce, the team analyzes consumer behavior and spending habit and provides the results to e-commerce operators to serve as the basis for product pricing and marketing strategy planning.
Hua noted that most academic researchers lack experience in the world of business, so it is challenging for them to turn research results into commercial products. Having extensive experience in the IT industry is one advantage of the NTUST team. This allows the team to come up with solutions that meet business requirements and systems that can be up and running in a snap.
Having long engaged in close interactions with the industry, NTUST's Research Center for Information Technology Innovation is able to further expand its scope of industry-academia collaborations after its participation in the Taiwan Tech GLORIA project in 2018. Its recent partnership with Intel was made possible by the Taiwan Tech GLORIA project. Using development tools Intel provides, NTUST students design solutions to issues that businesses encounter during operation. Through such a collaboration model, students get familiarized with Intel products while learning new and practical skills and businesses get their issues resolved. Hua's team also has multiple ongoing industry-academia collaboration deals in addition to the one with Intel. With help from the Taiwan Tech GLORIA project, the team will continue to strengthen its collaboration with the industry and foster talent with real-world skills for the Taiwan industry.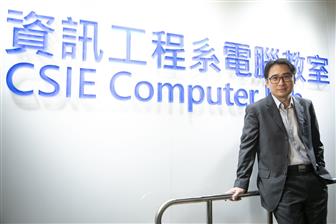 Kai-Lung Hua, professor, Department of Computer Science and Information Engineering, NTUST
Photo: Kai-Lung Hua