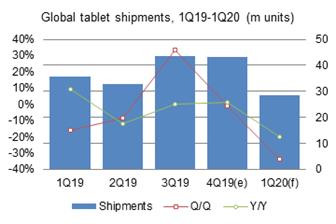 Global tablet market (outbreak updates) – 4Q 2019
Thursday 27 February 2020
The tablet sector is witnessing better capacity recovery than the notebook and handset sectors.
Global tablet market – 4Q 2019
Global tablet shipments amounted to 43.23 million units in fourth-quarter 2019 as white-box vendors had excess inventory,...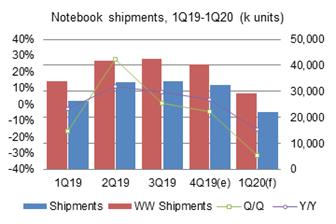 Taiwan notebooks – 4Q 2019
Wednesday 19 February 2020
Taiwan's notebook shipments slipped 4.4% sequentially, but grew 3.1% on year to arrive at 32.37 million units in the fourth...
The coronavirus outbreak has resulted in labor shortages and shipment disruptions in China's supply chain, but Digitimes Research believes if the epidemic gets under control, China-based top-4 smartphone brands' shipments are expected to drop 19.5% on year in...

The coronavirus outbreak has disrupted production and weakened consumer confidence, with all ICT sectors bracing for major declines in shipments. Digitimes Research has conducted analyses on three mobile device sectors, namely notebooks, smartphones and tablets...

Digitimes Research estimates that global server shipments moderately declined 1.4% in 2019 but will turn to show positive growth of 6.6% in 2020, totaling 16.01 million units.