About DIGITIMES
DIGITIMES, established in 1998, is a unique information source for readers who need to know about the supply side of the semiconductor, electronics, computer and communications industries. Daily coverage of Taiwan's IT companies and news from China and other regions provide a lifeline to industry professionals, channel players, investment analysts and media around the world.
Through the "
" Traditional Chinese newspaper and website, DIGITIMES reaches more than 100,000 professionals in more than 1,300 IT-related companies in Taiwan every working day. The DIGITIMES English website adds a global flavor with around 30,000 visitors every day, 60% from North America, 19% from Asia and 15% from Europe.
Contacts/Officers
Publisher and chairman: Ken Tai
President: Colley Hwang
COO and chief editor: Morris Lo
Editorial director (Chinese): Henry Chen
Managing editor (English): Michael McManus
Marketing director: Chih-Feng Chen
Subscription director (Chinese): Frank Wei
Subscription manager (English): Sylvia Wu
Traditional Chinese media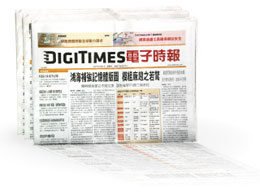 DIGITIMES Traditional Chinese newspaper.
Every working day, the "
" (DIGITIMES) Traditional Chinese newspaper delivers around 100 news stories to Taiwan's IT industry. With a daily circulation of about 65,000 copies, over 45,000 daily email newsletters and the digitimes.com.tw and member.digitimes.com.tw websites providing content to over 150,000 unique visitors each month, no other publication has a similar focus or comparable reach into the supply side of the world's IT industry. The content of the newspaper and websites consists of sections devoted to news for computers and peripherals, semiconductors, optoelectronics, IT, communications, networking and software.
| | |
| --- | --- |
| | |
| DIGITIMES website geographic readership breakdown. | Chinese email readership breakdown by industry. |
| | |
English media
Founded in 2000, two years after the Chinese-language newspaper and website, the English-language website bridges cultural and language gaps and tells the world what's happening in Taiwan's hi-tech industry. About 300,000 visitors each month demonstrate the importance of Taiwan's industry and the unique reach that DIGITIMES has developed. Unlike most media, only about 10% of the readers of the English-language edition are "local." Just under 50% of DIGITIMES' readers are based in North America and around 15% are from Europe.
| | |
| --- | --- |
| | |
| DIGITIMES readership breakdown by region. | English-language email newsletter readership breakdown by position. |
| | |
Broad channel penetration is guaranteed, with readers from all the world's major distributors of electronics components and IT products. All the leading IT brands read DIGITIMES to find out what's affecting prices and where the various industries are heading. International semiconductor companies look to DIGITIMES for news about their top customers and competitors, while brokers and investors try to map company performance from DIGITIMES news. In addition, with news partners around the world and other media tracking daily leads from DIGITIMES, DIGITIMES has become the world's most often cited English-language, Asian IT daily news source.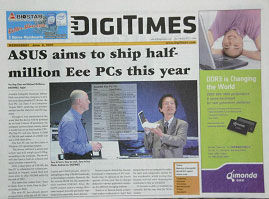 DIGITIMES Computex show daily.
There is no regular English print edition, but DIGITIMES produces show dailies for the Computex computer show at the beginning of June and the Semicon show in mid-September. For advertising opportunities in these publications, please contact your sales representative.
Membership, research & conference services
In addition to publishing newspapers and websites, DIGITIMES has an active conference program and research group. In Taiwan, DIGITIMES has over 1,300 member companies. Various levels of membership are available, and these provide access to the DIGITIMES news archive, preferential booking for events and, for the higher levels of membership, access to DIGITIMES Research reports. The DIGITIMES English website also offers access to its news database and industry overviews through a more limited membership program that has attracted around 850 members.
In 2004, DIGITIMES organized about 40 events, with 33 organized on behalf of other organizations. The events included CEO roundtables with around 60 attendees, seminars with up to 750 attendees, and multiple-day events coinciding with major trade shows in Taiwan.
DIGITIMES Research employs 15 analysts covering technology trends and the displays, systems and communications industries. In addition to presenting at conferences, DIGITIMES Research publishes weekly the Chinese-language "FPD Report" and "ICT Report." About a third of the work produced by DIGITIMES Research is proprietary research sponsored by government and commercial organizations.
Taiwan's world-leading economy
Of the 102 countries surveyed by the World Economic Forum's The Global Competitiveness Report 2003-2004, Taiwan was ranked fifth, following Finland, the US, Sweden and Denmark. One place ahead of Singapore, the island of 23 million people was ranked as Asia's most competitive economy, well ahead of Japan at 11, South Korea at 20 and China at 44.
For 2004 as a whole, Taiwan's real GDP expanded 5.71% to NT$10.3 trillion (around US$320 billion). Domestic demand contributed 5.69 percentage points to the change in real GDP, with net exports contributing 0.02 percentage points. With moderate growth in the world economy forecast for 2005, Taiwan's growth is expected to slow to 4.21% with 2005 GDP estimated by the government to reach NT$10.8 trillion. Exports counted in the GDP totaled NT$6.8 trillion, exceeding imports of NT$6.3 trillion by about 6%.
The all-important IT and semiconductor industries
The engine for Taiwan's growth over the last 25 years has been the island's high-tech industries. In 2004, Taiwan manufacturers produced IT hardware products valued at over US$67 billion and semiconductors worth almost US$20 billion. In addition to leading the world in the production of over 10 different IT products, such as notebooks and LCD monitors, the island is also number one for semiconductor foundry and packaging services and mask-ROM production.
Taiwan output of IT and networking hardware

Product

2004 (bn NT$)

2004 (m units)

2005 (m units)

Global share

Global rank

Notebook PC

21.8

33.4

41.50

72.4%

1

Desktop PC

9.4

34.7

36.63

29.2%

N/A

Motherboard

6.2

108.0

112.35

78.3%

1

Server

1.8

2.1

2.43

32.8%

2

LCD monitor

14.4

45.7

63.92

67.6%

1

CDT monitor

3.5

35.3

26.01

53.6%

1

Optical disc drive

3.5

105.8

116.33

41.7%

2

Digital camera

2.0

21.2

23.91

34.5%

2

Switch

0.7

129.6

149.00

59.0%

1

Router

0.7

16.6

18.19

89.2%

1

Cable modem

0.5

12.0

14.56

66.3%

1

xDSL CPE

1.1

32.8

40.11

70.9%

1

WLAN product

1.3

61.3

104.10

83.0%

1
Source: MIC, compiled by DIGITIMES, March 2005.
With its limited resources, Taiwan has not achieved all this alone. In 2004, only 9.3% of Taiwan's output was produced on the island, while 78% was produced in China. Shipments follow the IT industry, with 29.8% to the US, 28.2% to the EU, 12.3% to Asia Pacific, 7.6% to Japan, 11.2% to China, 4.1% domestically, and 6.8% to other regions.
To continue growing, Taiwan is actively repositioning itself as an R&D and financial center with close China ties.
Enterprise structure
According to Taiwan's Department of Reconstruction (MOEA), Taiwan had over 602,000 registered companies in 2004. Other associations give figures of just over a million companies, but all agree that the vast majority (over 98%) are small to medium-size enterprises. Around 7,000 of Taiwan's companies participate directly in the IT industry and about 1,300 of these are publicly declared companies that are already trading or wish to be traded on the island's stock exchanges. Over 400 of these are listed on the main Taiwan Stock Exchange (TSE), over 300 on the Over-the-Counter (OTC) market and over 200 on the Emerging Stock Board (ESB).
When the bulk of Taiwan's production was handled on the island, companies grew up in clusters, creating a vertically-integrated supply chain that became Taiwan's global advantage. As production has shifted to China, Taiwan has reproduced the clusters, first in the south in Guandong Province and then near Shanghai, Beijing and in other areas. However, Taiwan's government has controlled the move west and retained leading edge technology in Taiwan. A major part of this leading edge technology is contributed by Taiwan's semiconductor and displays industries. To promote these two industries, Taiwan formulated a "Two trillion, Twin star" project that aims to encourage them to grow to NT$1.59 trillion (almost US$50 billion) and NT$1.37 trillion (almost US$43 billion), respectively, by 2006. A separate plan aims to promote the island's telecom industry to become a billion US$ business by 2008.
The best known "cluster" in Taiwan is the Hsinchu Science Park (HSP). Founded in 1980, this park now hosts over 370 companies and generates around NT$80 billion (over US$2.5 billion) in sales from high-tech industries each month. Over two-thirds of this amount is now from semiconductors.
Following success of the HSP, the government established the Southern Taiwan Science Park (STSP) in Tainan in 1995. Beginning operations in July 1997, this park opened an "extension" in Kaohsiung, about 30km away, in 2001. In 2004, STSP generated average sales of almost NT$13 billion (over US$400 million) each month from January to October. Over 65% of this came from optoelectronics production.
Sales generated by Taiwan's science parks (NT$ billion)

Sector

HSP

STSP

Firms

Oct-04 YTD

2003

Firms

Oct-04 YTD

2003

ICs

159

493.8

563.3

9

68.6

60.9

IT hardware

57

91.6

134.8

2

0.7

0.1

Telecom

53

40.4

56.5

10

0.7

0.7

Opto

60

88.4

94.3

23

143.3

89.7

Precision Machinery

21

5.8

5.8

12

3.5

3.3

Biotech

27

1.6

1.8

11

1.0

0.5

Total

377

721.7

856.5

67

217.7

155.2
Source: Science park administrations, compiled by DIGITIMES, March 2005.
China flat panel display industry outlook, 2013-2016

This Digitimes Research Special Report outlines and analyzes the key trends and players that are influencing the continued development of China large-size and small-to medium size TFT LCD panel industry, while providing related growth forecasts for the industry through 2016.

ASPs of TD-LTE chips to remain stable initially as suppliers are limited

While a number of IC vendors have begun shipping chips supporting TD-LTE, including base band chips, radio frequency chips, APs, SoC solutions and soft modems, shipments of base band chips account for a majority share of total TD-LTE chip shipments currently, according to Digitimes Research.

TD-LTE market developments and forecast, 2014-2016

TD-LTE has become the mainstream global choice for the construction of 4G asymmetric frequency spectrum networks. This Digitimes Research Special Report examines the current global status of TD-LTE, and forecasts developments in the TD-LTE supply chain in China and worldwide through 2016.